Financial Aid's 'Momma' dedicates career to helping students succeed
Lea Anna Cardwell
November 26, 2012
Hang on for a minute...we're trying to find some more stories you might like.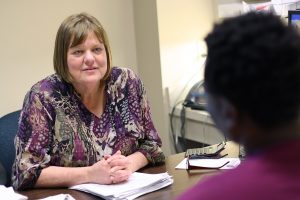 Judy Smith started college at 44-years-old. After losing her job of 20 years, going back to school was the only option. Now Smith has become an influence to many students over the last 12 years as a financial aid counselor.
Smith started as a student worker in the financial aid office while pursuing her degree and was hired soon after.
"I thought getting the job in financial aid would be the most amazing thing, but little did I know, no one wanted it," Smith said.
After her first three days, Smith left the office in tears, but it didn't take her long to become "Momma."
"A few years back there was a football player who I helped," Smith said with a smile. "If I was busy when he came into the office he would just stand at the front and holler, 'Momma,' and I guess it just stuck."
The nickname fits the woman who coworkers say goes above and beyond for every student who walks through the door.
Fellow counselor Gail Bonner described Smith as someone who puts herself aside to consider everyone else's needs.
"She has told me numerous times that each morning she always prays that God will put someone in her path that she can help, which would fulfill her purpose for each day," Bonner said.
Smith said she loves the ULM family, she loves the students and she's not leaving any time soon.
"I'm 59. At my age most people are looking to retire, and I just feel lucky to love what I do," Smith said.
For Smith, it's the students and the love of education that make her job rewarding. She said she didn't come to college at 44 just for the fun of it.
Education opened doors for her, and being able to help open those doors for others keeps her going every day.
Coworker Stephanie Banks said, "With her down-to-earth approach to any topic, a little humor and humility, she is an amazing wealth of financial aid knowledge, but more importantly, she exemplifies the definition of service."
Smith accepts no credit for accomplishments. Her friends knew she wouldn't. Smith said she solves problems by double teaming with her coworkers and other departments.
Student worker Lyssa Caylor attested to the line of students always waiting to see Smith. "Everyone wants to see her, and they always wait," Caylor said.
They wait for Momma.