Jeff Dow named new women's basketball coach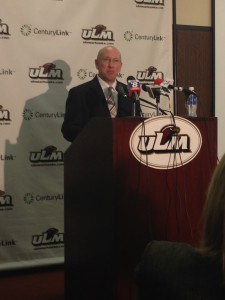 Althletics director Brian Wickstrom announced the hiring of Jeff Dow as the head coach of women's basketball this morning at a press conference in Malone Stadium.
"We want to continue to be competitive and do things the right way," Dow said.
He said that he realized the importance of this job and it is something that he values.
Dow most recently has served as the head coach of women's basketball at Indiana University of Pennsylvania from 2008-2013. While there he compiled a total record of 108-40 (.730). Prior to his time at IUP, he put together a record of 79-17 (.823)  at Anderson of SC.
Dow replaces long-time head coach Mona Martin who retired in March.
Check out next week's issue of Hawkeye to get more information.