Trojans take down Warhawks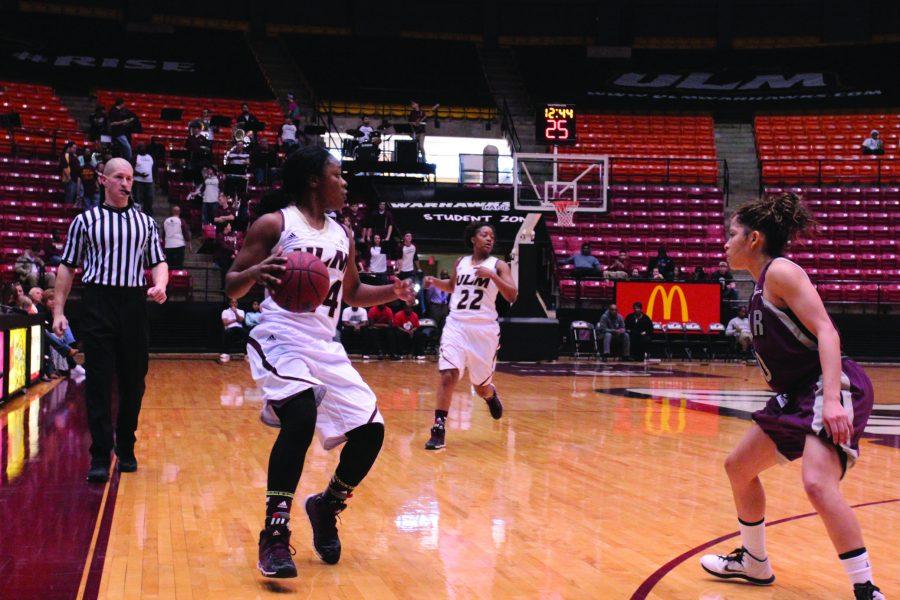 Dakota Ratley
January 18, 2015
Women's basketball found itself in an early hole against UALR, and couldn't quite ever find the way out.
UALR has defeated every conference foe by 20 points or more. ULM was no different, as the Trojans were able to get the win, 79-41. That's a difference of 38 points.
Head coach Jeff Dow remarked of how good UALR is.
"There's a reason they have a record of 13-2 and their undefeated in the Sun Belt and have pretty much had their way with everyone," he said
The loss drops ULM down to 5-10 with a 1-5 record in Sun Belt play. The Warhawks are tied for ninth in the conference with Georgia Southern.
UALR moves to 13-2 on the year and continues their unbeaten streak in conference win streak. They are now 6-0 in conference play, and in sole possession of first place in the Sun Belt.
ULM's Christina Gray was able to record a double-double, scoring 17 points to go along with 10 rebounds. Six of her rebounds were gathered on the offensive glass. She was the only Warhawk to record double-digit points.
Four UALR players were in double digits.
The Warhawks were without starting point guard Aundrea Davis, who is currently sidelined with a lower body injury.
The game was never really close as ULM never led and found itself behind 10 points with just over 15 minutes left in the first half. The Warhawks were held to a dismal 20 percent shooting while the Trojans were able to shoot at a 48.1 percent clip. The first half left the Fant-Ewing scoreboard showing 47-20 at the halfway point.
The second half saw the Warhawks continue to battle despite the score. They were able to play better defense, holding UALR to 38.5 percent shooting while shooting at 25 percent.
Dow said that he was impressed with his team's effort during the second half performance despite the score. He noted that going into the last five minutes the teams were even in the second half.
"I understand it doesn't work that way in sports, trust me, I get that, but at least it shows something," he said.
The Trojans outscored ULM by 10 in the paint and had eight more points on fast breaks opportunities.
The Warhawks surrendered the ball 20 times, which led to UALR scoring 23 points off turnovers.
The game was heavily officiated. There was a total 55 fouls called during the game.
ULM will now set their sites toward a meeting with rival ULL Monday at Lafayette. The Warhawks will play host to UT Arlington on Thursday and Georgia Southern on Saturday.