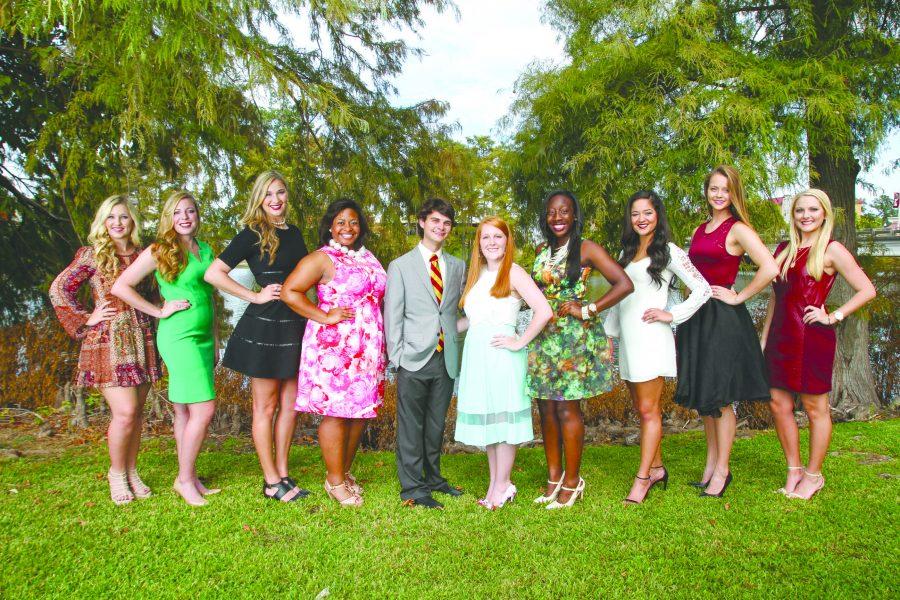 Emerald Harris/ULM Photo Service
Lauren Norton stood blinded by the Malone Stadium lights for the second time. She knows third time's a charm, but she was hoping this would be her last.
"And, your 2015 Homecoming Queen is…Miss Lauren Norton!" said Seth Hall, director of high school recruitment.
Norton knew the wait was over at the Kickoff Pep Rally on Monday, as her new shiny crown was gently placed on her head.
"I tried out before and didn't make it," said Norton, a senior risk management and insurance major. "So, it's really cool to go from not ever being on court to being queen."
Norton is grateful for the win and wants to return all the favors from the university.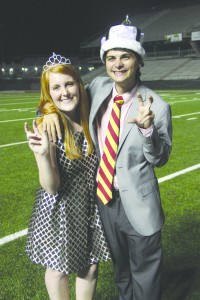 "I want to give back to a school that has given so much to me," Norton said.
Bryson Belaire had a different expereince. He already knew that he had won Homecoming King before the Kickoff Pep Rally.
"I was actually at the election announcements in the SGA office when I found out I won," said Bryon, a senior pre-pharmacy major.
Belaire said it was hard to believe that he had actually won the crown.
"It didn't hit me right away," said Belaire. "It wasn't until I told a few of my friends and called my mom that it really hit me."
Belaire said he's grateful for the honor and said he is already taking advantage of his newfound royalty.
"I've been stealing (collecting) things all week during HC so I plan to make some sort of little shrine with my crown and all my keepsakes," Belaire said.
Senior Maids: Monohn Prud'homme, a social work major and Chelsea Wyatt, a psychology major.Junior Maids: Elaine Blanco and Olivia Remsberg, both communications majors.
Sophomore Maids: Alyssa Garner and Sarah Green, both pre-nursing majors.
Freshman Maids: Anna Claire Brown and Shelby Carrier, both pre-pharmacy majors.