Smoke forces faculty, students out of library
Students, faculty and staff evacuated the library Thursday night around 6 p.m. after occupants detected a considerable amount of  smoke pouring into the fourth floor.
The fire alarm went off and an announcement was made that said "this is not a drill," causing some uncertainty and fear for students inside.
Several fire trucks and police personnel arrived to the scene.
Dennis Pruden, the library's building manager, announced that there was no fire in the library shortly after students evacuated and were waiting outside.
"A window was open upstairs and there's a fire over by the stadium coming in pretty strong," said Pruden, who stayed behind to try to find the source of the smoke and to ensure that no students remained inside the building.
According to Pruden, because the burn ban had just been lifted, the fire was likely a controlled one lit elsewhere.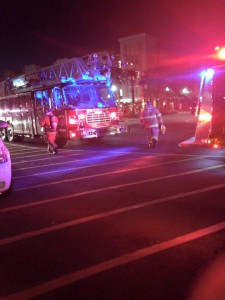 "The burn ban has been lifted, so everybody is burning. The smoke that got in [was] really strong on the fourth floor," Pruden said.
After Pruden and firefighters declared the library to be clear, students were allowed back inside.
While they waited for the news from Pruden, students stood outside the library, confused about what was happening.
Maggie Jones, a senior English major who was taking a test when the alarm initially went off, said that she didn't take it seriously at first because usually it's a false alarm.
"We were walking down the stairs thinking it wasn't legitimate, and then we smelled it. And then we heard the security guy yelling and saying it wasn't a drill," Jones said.
The library has had several false alarms in the past year, but this time the presence of smoke was clearly smelled and seen.
This prompted some students evacuate more quickly than others.
Antoinette Leo, a freshman pre-pharmacy major, said that she also ran out of the building when she saw the alarm go off.
Dustin Hickman, a junior risk management and insurance major, was studying in the library when a friend called him and told him to get out.
"If you look now, you can see that it's a little smoky up there, but it's even worse in the back," said Hickman at the time of the evacuation. "The whole floor is smoked up."
Delvin Riley was working at the circulation desk when firemen started entering the building.
"They weren't really sure if there was a fire or not. I was working, and I'm not really sure what happened," said Riley, a senior psychology major.
Outside discussions fueled a rumor shortly after the fire alarm and subsequent evacuation that a trashcan inside the library had caught on fire.
Shelbi Penny, a junior mathematics major, said she was very concerned about the possibility of a fire in the library.
"I said, 'oh Lord ,Jesus, it's a fire,'" Penny said.
However, firefighters reported no fire inside the library.