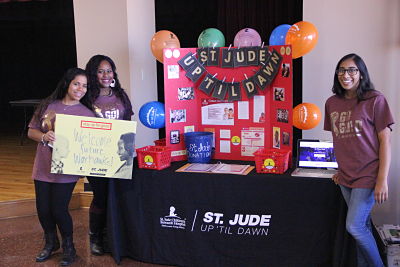 Parents and prospective students spent the day in the life of a Warhawk—gathering information on programs and student organizations, watching the 31 Ambassadors' Chili Cook-Off and, of course, visiting the bayou turtles.
Future students can experience ULM, possibly for the first time, at Browse on the Bayou. Campus tours and sessions focused on specific academic interests give students an idea of what the university has to offer.
Browse includes the "Academic Showcase" of ULM's different academic programs and social organizations that fill the SUB Ballrooms.
Students and faculty at various tables talk to prospective students about their specific interests.
Allison Ogden, a junior Spanish education major, attended Academic Showcase at Browse to represent the Honors Program and the Foreign Language department. Ogden attends Browse every chance she gets, and she said she enjoys getting to speak with potential students that are interested in the programs she represents.
"Browse the Bayou definitely helps incoming freshmen figure out what they want to be a part of and it shows what all we have to offer," Ogden said.
Adrianna Vinson, a prospective ULM student who is considering dental hygiene, attended Browse and found that it made her much more interested in the university.
"I really like this, and I'm very interested in coming here now," Vinson said.
Vinson's mother, Joyce Vinson, found the event to be a very enjoyable way for both parents and students to learn about the school.
"We came down here from Natchitoches and my daughter is very interested in going to this school. We definitely picked a beautiful day, it's a beautiful campus, and we're having a wonderful time," Joyce Vinson said.
Faculty at ULM are also interested in attended Browse as a way to recruit for their programs.
Anne Findley, professor of biology, was at Browse to speak to potential students about participating in research in the biology department. Findley said that the program receives more applicants than it can actually accommodate and that Browse is a contributor to that.
"It's a great way to meet prospective students and give them a little more information about ULM and our prospective programs," Findley said.