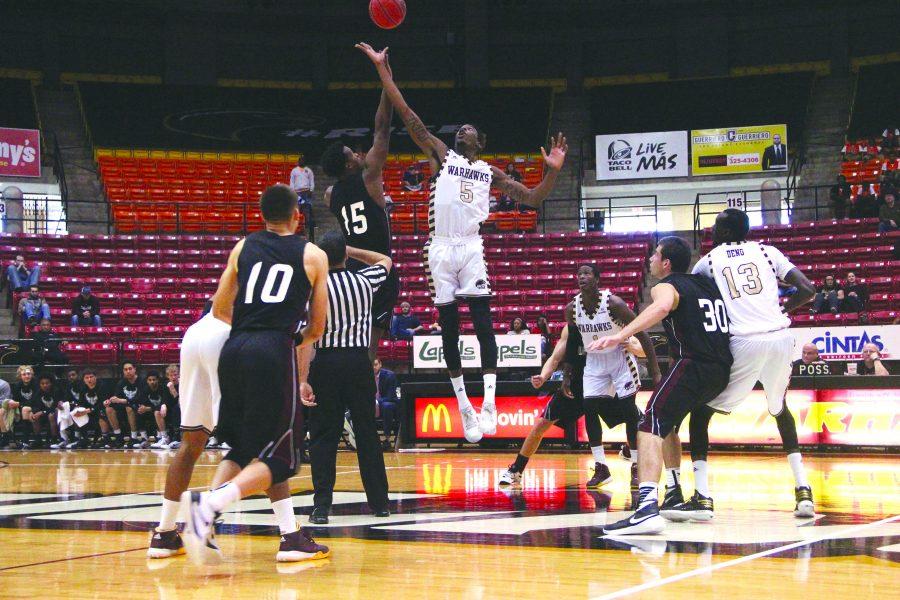 The Warhawks started off the season with a dominant 88-43 win over McMurry.
The 45-point margin of victory was the largest for the Warhawks in a season opener in school history.
ULM scored the first 17 points of the game and never looked back.
The Warhawks also came out strong defensively only allowing 12 first half points.
ULM also had  23 points off turnovers in the first half.
Senior guard Justin Roberson had 11 first half points and said he felt the team's defense led to their offense.
"If we continue to get stops on defense, we will have more opportunities to score on offense. Coach wants us to play defense so we can take advantage of early offense," Roberson said.
The Warhawks shot 17-27 or 63 percent from the field during the first half.
McMurray came back in the second quarter with a 31 point second half.
ULM finished the game strong by scoring 45 second half points.
The scoring was led by senior forwards DeMondre Harvey and Majok Deng.
Harvey finished with 14 points and six rebounds.
"I am adjusting to a new role, being the six man of the team. I'm focused on playing good defense, scoring when needed and also getting rebounds," Harvey said.
ULM dominated on the glass by winning the rebound battle 41-23.
Freshman forward Travis Munning, who started his first game as a Warhawk, finished with 6 points and 8 rebounds.
He led the Warhawks in minutes, rebounds and in steals.
Munning said he felt confident in his team defense.
"Our team is pretty good on defense, once we get the right mindset, we can stop anybody really, all we got to do is dig in and play together," Munnng said.
Junior guard Prince Cooper is a player that coach Keith Richard said he is looking forward to seeing a greater role out of.
"Prince is a guy that didn't get to play much last year but we're really looking at him this year for some off-the-bench play. He's coming along and we'll see how he does as we move forward in competition," Richard said.
Cooper finished the game with 12 points, seven rebounds, and three assists.
Richard said his focus in today's opener was to get the new guys valuable minutes.
"We had a lot of minutes spread out among all of our players which was something we wanted to do today," Richard said.
ULM starts the season 1-0 for the second consecutive time.
The team takes on Minnesota Nov. 15.