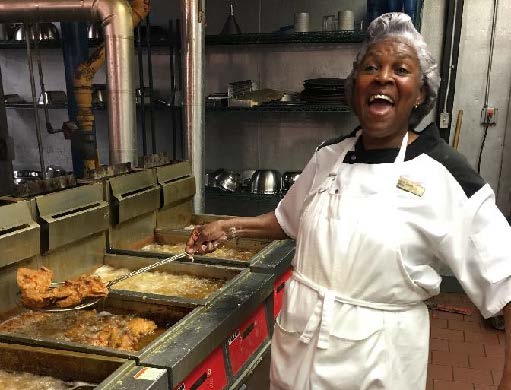 Sponsored Content.
Elizabeth Grayson (aka Momma):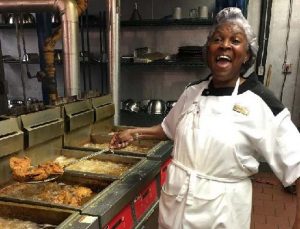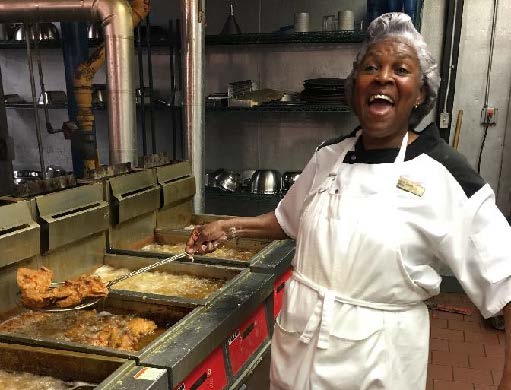 Miss Lizz, who has been with Aramark for 36 years, is at the core of who we are and who we want to be at ULM Dining Services. Not only is she our longest tenured employee, she is also the only employee that students have pegged as "Momma". Miss. Liz, born and raised in Monroe, Louisiana, has spent nearly her entire life in the kitchen. She tells us stories of her being 7 years old, not even tall enough to reach the counter top yet, rolling out biscuits with her grandmother early in the morning. From a line server, to dishwasher, to a cook and now a supervisor, Miss Liz has held nearly every position in food service at some point throughout her life.
When Miss Liz isn't at work, she enjoys spending time fishing and of course, cooking for the ones she loves. Her family consists of three daughters, one son, five grandsons, one granddaughter, three great grandchildren and a dog named Sunny. ULM is so engrained into her family, 3 of her children even attended and received their Master's degree from the university. Miss Liz is "mama" to anyone and everyone she meets; immediately upon meeting someone she treats you just like family. When we asked her why she loves being "mama" she told us, "This place (ULM) is a part of me. I love my children. I love these kids. They are why I have been here for so long. I never thought I'd be here long enough to see this day and I made it. I thank God for that." We at Aramark are forever grateful for Miss Liz's contribution and the impact she has made on each of us. Thank you Momma!
Mario Richardson (aka Maurice):
Upon mee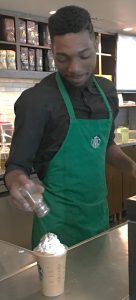 ting Mario from Starbucks, most would think he is Mr. Personality. He is so popular on ULM's campus, he even has his own hashtag, #MariofromStarbucks. However, you may be surprised to know he has not always been that way. Mario, born and raised in Monroe, Louisiana actually came to work for Starbucks because of his mother, Ms. Tracee. Tracee had worked for ULM's Dining Services (Aramark) since he was a baby. Once Mario had graduated high-school she brought her son, who tended to keep to himself, to Aramark to find a job. In no time, the guy everyone called, "Ms. Tracee's son," made his own mark on the campus.
Now the once loner, who likes to watch animé and play video games, has become one of Starbucks' most recognized baristas. Mario says his favorite thing about working on ULM's campus is the people; he enjoys getting to interact with the students, faculty/staff and his co-workers. He states, "Coming here every day I don't even see it as work. I have mass love for ULM."
Mario is a fun, outgoing guy who loves this campus, his job and his family. When we dug into his personal life there was a resounding theme–his mom. He says, "My mom and I have a bond that can't be broken." Mario also has two younger brothers that he refers to as his heart and his headache. You may also be surprised to know that Mario is
very entrepreneurial minded, he even sells stocks and creates music when he isn't working as a barista. He enjoys being spontaneous and trying anything that could potentially help him to become successful. All of us at Aramark have loved getting to know Mario and hope that everyone on campus has as well. Thanks Mario for always lifting our spirits and being exceptional at what you do!