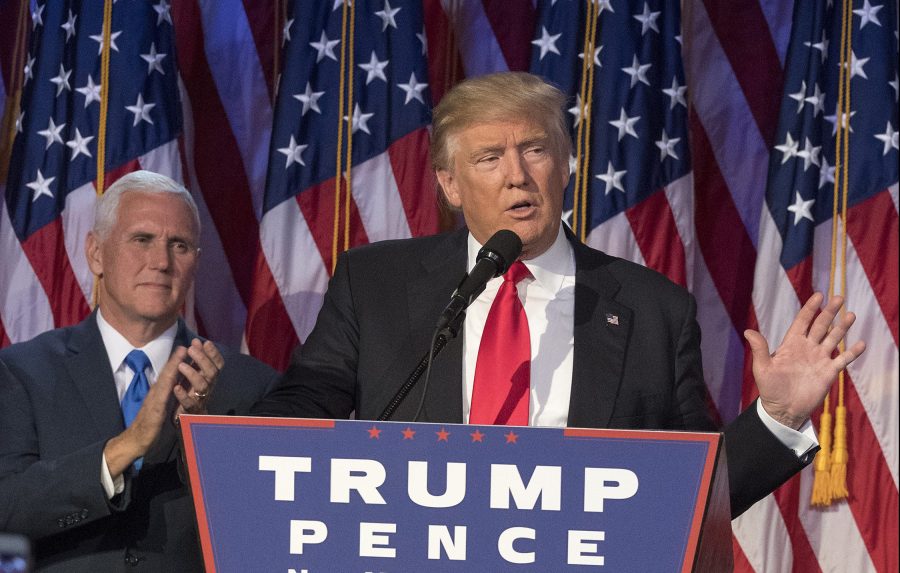 TNS
Donald Trump won the presidency in an unforeseen state-by-state race that spilled into Wednesday morning after almost all polls pointed to a Clinton victory.
Voter turnout was higher than ever in the race that upset political standards and left America with its mouth gaping open in disbelief.
Republican and future 45th President Trump, who has no political experience, found a following by shaking up politics with his unconventional campaigning style. He largely appealed to voters who longed for a return to American greatness and who rejected career politician and Democrat nominee Hillary Clinton. His success as a businessman and blunt speeches inspired belief that he was a needed change, as well as plenty of controversy.
Although Trump's speeches have appealed particularly to conservatives in the past, his victory speech took on a more bipartisan tone as he called for America to "bind the wounds of division."
"To all Republicans and Democrats and independents across this nation, I say it is time for us to come together as one united people," he said.
Trump's win is a testament to the overall success of the Republican Party on Election Day, which left them with control of the House and the Senate.
One empty Supreme Court seat will also be filled under the delegation of Trump, as well additional seats that are likely to open during his term.
This historic vote has elected a president that has never held a public office before, and will allow the United States to watch and see if Trump follows through on some of his more extreme campaign promises. While campaigning, Trump pledged to build a wall along the border of Mexico, to repeal and replace the Affordable Care Act, to stop the Syrian refugee resettlement program and to renegotiate NAFTA. He has already said that he will keep some parts of the Affordable Care Act.
Trump also claimed that he will bring manufacturing jobs back to the U.S. and improve conditions in inner cities.
Although Clinton was forecasted to win by major news outlets, Trump's "silent majority" following pushed him to victory. He won the majority of white votes, mainly because his promise to "make America great again," appealed to working class whites.
Trump began leading early during the results period, but the race remained close as swing states turned unexpectedly red.
The race was called at around 1:30 a.m. central time Wednesday morning when Trump jumped to 276 electoral votes.
After a campaign season that thrived on insults and accusations from both candidates, President-elect Trump praised Clinton for her "hard fought campaign" and prior political service.
"Hillary has worked very long and very hard over a long period of time, and we owe her a major debt of gratitude for her service to our country. I mean that very seriously," he said.
Clinton gave no concession speech after Trump won, but instead called him to concede the race. In his victory speech, Trump said Clinton congratulated him. She spoke Wednesday morning.
For most, Tuesday night was a shock. Even Trump himself said in the weeks before the election that he may not accept the results if he lost because the voting system may be "rigged."
Internationally, the effects of the election are not yet known. Abroad, the preparation for a Clinton presidency and not a Trump victory was just as prominent as in the U.S.
Trump is a typical business man with an appeal to the masses. He is a real estate tycoon, a reality television star, a steak seller, and now he gets to try his hand at being a politician. The U.S. and the world wait to see how he handles this new position.
This is going to be huge.