Get the shot, not the flu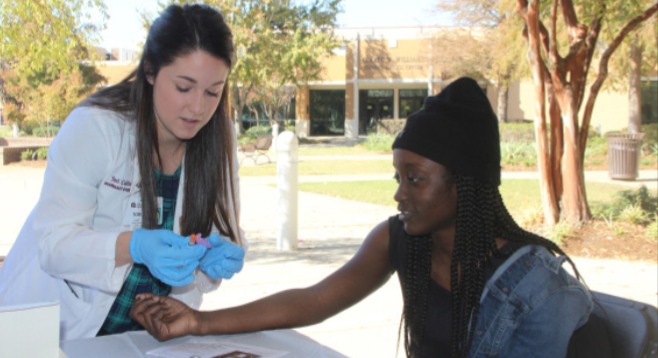 Kandice Johnson
November 22, 2016
Sixty students can dodge the flu this season because of the free u shot event hosted by the ULM Chapter of Academy of Student Pharmacists.
The organization gave free shots to students Wednesday morn- ing under the library overhang. All students had to do was ll out a one-page form and answer three questions to protect themselves for the u season.
"Living on campus, students are at higher risk for getting things," said Chelsie Morein, patient care vice president and third-year pharmacy student. "They're just around a lot of microorganisms. We just want everyone to be immunized."
SGA Vice President Bryson Belaire said the event was super convenient.
"My mom had actually been bugging me to get it for the past few weeks, but I just hadn't had the time to run all the way to the heath clinic," Belaire said.
Because of the event, Belaire was able to get his shot within five minutes.
The organization was able to reeive 60 vaccines for the event, and they are hoping to receive 40 more at the end of the year, totaling to 100 free vaccines for students.
Morein said although u shots prevent the u, they can't prevent all strains of the u.
"the Center for Infectious Diseas- es tries to pick strains that will be most popular," Morein said. "Usually when it's going around, people are protected."
International student Shivam Kharga said he was walking through the library and saw students asking to take a u shot.
"I have never gotten a u shot," Kharga said. "I got one because prevention is better than cure."
Kharga said fluu shots weren't offered at his school in Nepal, because of the rare occurrence of the u.
"Coming to the U.S., I have heard a lot about the flu," Kharga said. "So taking the shot could help me avoid the u in the near future."
Emma Braddock, president of ULM APHA-ASP and third-year pharmacy student, said that u shots are usually covered by most insurance companies, but students without health insurance can take advantage of this event.
"Through links, it will be on their record, showing that they got a u shot this year," Braddock said.
Members of ULM APHA-ASP were surprised by the turnout.
"We finally got to pull it o ," Morein said. "We've been trying to do this for several years now, and it's just been hard to get set up…I'm really excited it finally happened."
The organization ran out of free flu shots before the event ended at 2 p.m.