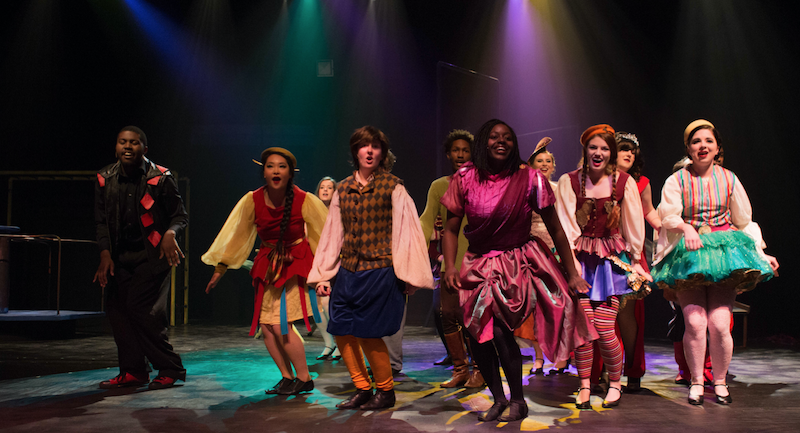 Written in 1972, "Pippin" has always boasted posters of acrobatic swingers and back-benders clad in tights and glitter, but tights and glitter don't always mean happy endings.
"Pippin" made its way to ULM last weekend for a production that most people unfamiliar with the show did not expect.
What began as a performance with songs of magic and charming dance interludes turned into a bit of a psychological thriller once the audience understood what was happening.
In "Pippin," the players tell the story of young Prince Pippin (Matt Stewart), a college-aged man who isn't quite sure of his purpose in life.
A leading player (Dwendol Nelson and Demetrius Williams) directs the actors as they go about telling the story of Pippin's quest for fulfillment.
Pippin goes to college, to war and even becomes king, but he never feels like he's found his place.
In the second act, however, Pippin finds a little comfort with an estate-owning widowed mother named Catherine (Allison Newton and Abigail Thomas), who takes Pippin in and lets him work on her farm.
At first, Pippin has no enthusiasm for this work, but after he bonds with Catherine's son Theo (Benjamin Rhodes) over an attempt to revive the boy's dying duck with prayer, Catherine and Pippin become lovers.
After Pippin realizes he has spent a year with Catherine and Theo, he once again believes that he is not living to his full potential and leaves.
This is where the play takes a turn. Although Pippin doesn't know his fate, the players have one planned for him.
The players expect Pippin to hang himself as a way out.
This planned grand finale leaves Pippin shocked, but perhaps still considering if this is the only ending for him.
Luckily, Catherine convinces Pippin to leave the play with her.
However, the two leave young Theo behind, and he becomes the next to play Pippin, with his role, and ultimately his ending, already written.
Although director and choreographer Robin Stephens said they did not change a word in Pippin, ULM's production was arguably darker than most attendees, and even the actors, initially expected.
"Our director wanted to get away from the opulence of the 2013 revival of the show on Broadway, which was a huge spectacle," said Allison Newton, who played Catherine on opening night.
According to Newton, the musical being produced at the university level allowed the actors to focus on laying out the theme for everyone to see, instead of making a profit like they do on Broadway.
The cast and crew wanted to capture the play in its "organic" nature, so they looked to the original 1972 version for inspiration.
As Matt Stewart, who plays Pippin, said, the musical is "something to be interpreted differently by each person." It ends up being rather heavy to everyone, he said.
Stewart believes that Pippin suffers from mental illness, and that the play shows that, "and it's OK to take your time figuring out yourself and your life."
To Dwendol Nelson, who played the Lead Player, the play says a lot about morality.
"Life will throw many obstacles in our way, but if we stay true to ourselves, we can overcome them," Nelson said. "Pippin was looking for fulfillment, but he didn't find it until he truly loved himself."
Newton said she's glad the play is open-ended, because it leaves no solid answer as to the meaning of the play or the meaning of life.
For many audience members, the play was relatable.
"I am still amazed and in awe of how well the cast portrayed this everyday struggle that many people go through," said Ira Lemo, a sophomore vocal major.
"Pippin" ran from Thursday to Sunday.