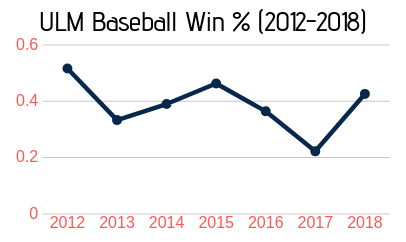 Graphics by Prajal Prasai
Baseball has often been called America's favorite pastime. It's no different in Monroe. Members of the community equate a successful team to their win percentage.
ULM won the Sun Belt conference championship in 2012, but has not been able to reach a win percentage even close to that since then. After the 2017 season and only 12 wins, it was time for a coaching change. Then came new head coach Michael Federico.
Federico immediately came in with a winning attitude, building on the 2017 campaign and winning 23 games in 2018.
"Our biggest goal is to compete on a day-to-day basis and if we can do that, our ultimate goal for this year is to get to the conference tournament," Federico said.
The turnaround hasn't been easy and always stays a challenge. However, a winning outlook can make the difference in a team.
"We talk on a daily basis about winning on the field and winning in the classroom and winning in the community," Federico said.
Coach Federico and his staff have not only put a lot of time and effort into the team, but also the facilities- painting and upgrading as much as they can to entice recruits and encourage the team.
"We've literally been the ones painting and been the ones ripping up carpet and there's been some local people that have donated some money which has been huge to do that," Federico said.
Not only were people in the community behind the team, so was ULM.
"Dr. Bruno and the school were able to help us out with the padded wall last year which dressed up the place," Federico added.
Coach Federico was also able to bring in 27 new players this year, adding to the depth of a team that was depleted at the end of last season due to injuries.
Because the baseball team is dear to so many in the community, one question remains fresh in everybody's mind: Is this team ready for another conference championship? Coach Federico believes so.
"Yeah, I do believe we can make a run," Federico said.