Fieldhouse Bar & Grill: Perfect for students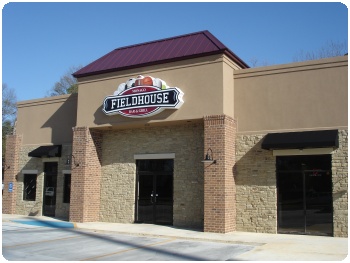 College students are constantly bombarded with thoughts about studying, homework, partying and most importantly—food.
Many students get tired of eating the same things from the same drive-throughs over and over. ULM students want to try something new.
One restaurant that has a drive-through along with an amazing selection of foods is Fieldhouse Bar & Grill.
It is located on 1510 Sterlington Road which is right off campus. The restaurant is open from 11 a.m. to 10 p.m. every day except Sundays.
Fieldhouse Bar & Grill has a menu with a large variety of delicious items. You can choose between amazing burgers, quesadillas, salads, wings, po-boys and much more. The possibilities are nearly endless at Fieldhouse.
Also, the restaurant has daily specials that are perfect for college students on a budget. For example, on Wednesdays, there is a $10 bottomless wine deal.
Fieldhouse is the perfect restaurant for students wanting wings and a beer to escape college life for an hour. It's nice to enjoy a night with friends, not buried in books.
Many fast food restaurants surround ULM's campus such as Wendy's, Taco Bell, Burger King, KFC and others. However, most of this cheap fast food gets old quick.
Different restaurants like Fieldhouse Bar & Grill are important because they give students more choices for places to eat. The food is also of a higher quality than the fast food options near campus.
The hamburger, for example, are mouth-watering. Also, their selection of appetizers such as nachos, cheese fries, fried pickles and boudin balls are to die for. There are enough options to please everyone in your friend group.
Fieldhouse Bar & Grill is the perfect restaurant for college students trying not to "break the bank."
It has a convenient location, delicious food and cheap, daily specials that are great for my wallet. There's not much more a college student could ask for from a restaurant.