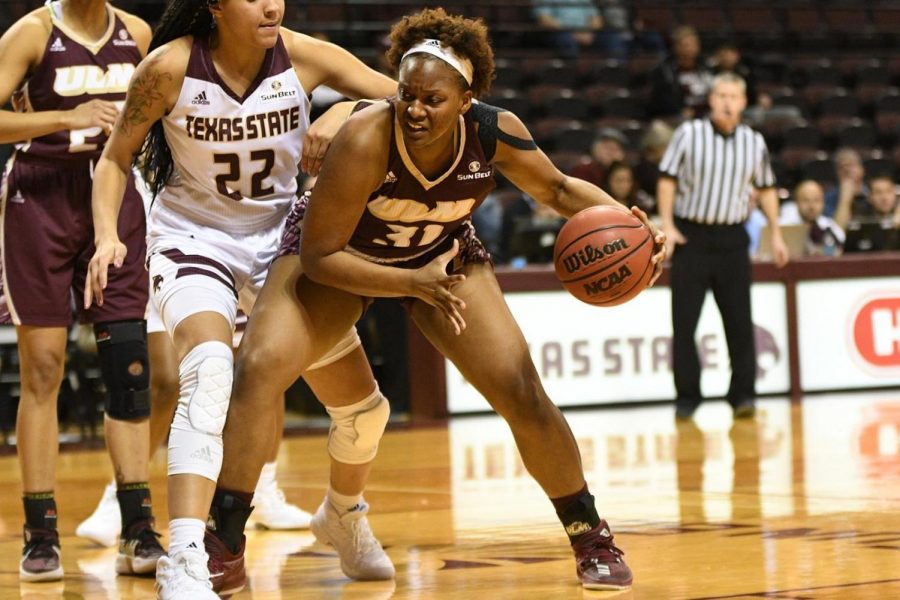 The women's basketball team came home for a two-game home stretch against Texas State and Texas-Arlington this past week. ULM lost to Texas State, 62-51, on Thursday and lost to Texas-Arlington, 60-56, on Saturday. ULM now has three consecutive losses.
The Warhawks have to work together if they want any more success on the season. ULM has a 5:30 p.m. showdown on Thursday against Appalachian State in Boone, North Carolina.
ULM is now 8-17 on the season and 2-12 in the Sun Belt Conference.
"Today I feel like we fell down in defense," said junior Lauren Fitch. "For offense, we did try to break down the zone more and I feel like I got in the zone more and made them work hard to stop me. If we would have made more shots from the 3-point line, we would have had better scoring and won the game."
On Thursday's game, the Warhawks kept up with Texas State and took a lead before halftime. Fitch was the highest scoring player for the Warhawks and scored in the double digits with 14 points.
Freshman Jamie Means was also another player for the Warhawks scoring in the double with 11 points.
The Warhawks had a field goal average of 32 percent against Texas State. ULM only made 15 percent of their shots on 3-pointers and went 0-for-10 in the second half.
Unfortunately, ULM fell short in defense on Thursday, which cost them the game.
Going head-to-head throughout the entirety of the game on Saturday against Texas-Arlington, the game was tied at 51 at the end of regulation and forced overtime.
Sophomore Arsula Clark took the lead for the Warhawks and scored in the double digits with 16 points. Sophomore Whitney Goins and Fitch trailed right behind, each scoring 14 points. Though the Warhawks fought hard, they also lost hard and gave the game away in overtime.
Head coach Jeff Dow blames the losses on lack of team support and not taking charge.
"A lot of turnovers that didn't need to happen, some great looks at three that didn't drop, some 50-50 balls that we needed to come up with that we didn't come up with them, opportunities to take charges that we didn't. That's two games in a row we haven't taken a charge," Dow said.
ULM will go on the road for two games against Appalachian State and Coastal Carolina before coming home to finish the season against Arkansas State and Little Rock on March 9. The Little Rock game will serve as Senior Day.