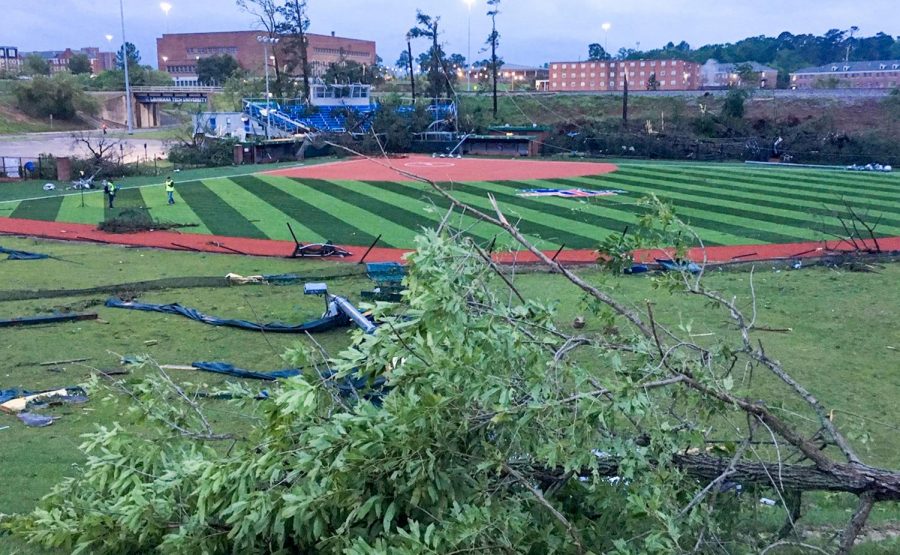 The EF3 tornado that ripped through Ruston on Thursday resulted in two deaths and several property damages.
Among the effected was the LA Tech's softball field. The Lady Techsters had six more games left in their regular season when the tornado destroyed their home field.
Upcoming tournaments for the season have since been moved to the ULM softball field, where the Lady Techsters played their first game after the tornado against Conference USA leader Western Kentucky on Saturday.
According to Molly Fichtner, head coach of ULM softball, the use of the ULM field was not even a question.
"Our home is their home. We are competitors on the field, but neighbors in the real world. And that's what matters the most," Fichtner said.
"What happened to LA Tech softball and the rest of the community was tragic. I cannot begin to imagine what they are going through and what they will continue to grow through over the next several months. I am blessed to work for a university that will do everything they can to help during this time," Fichtner said.
According to an interview in KNOE, head coach of LA Tech softball, Mark Montgomery said he is thankful for the offer to use the ULM field after Thursday's tornado.
"The most important part of it has been the team and its concept and its character. We are going to continue that, and we're going to play hard this weekend,"Montgomery said.
The disaster has brought together different local and regional organizations.
According to Rex Lofton, the general manager of the Office Depot in Ruston, many local organizations that weren't affected by the storm are helping by handing out supplies and food for free in the area.
"I have also been impressed with the amount of police presence around the buildings that were not able to properly secure their merchandise due to the damages," Lofton said.
As of this past weekend, the Office Depot in Ruston was operating on cash only basis while the shopping center waited for the powers to come back on.