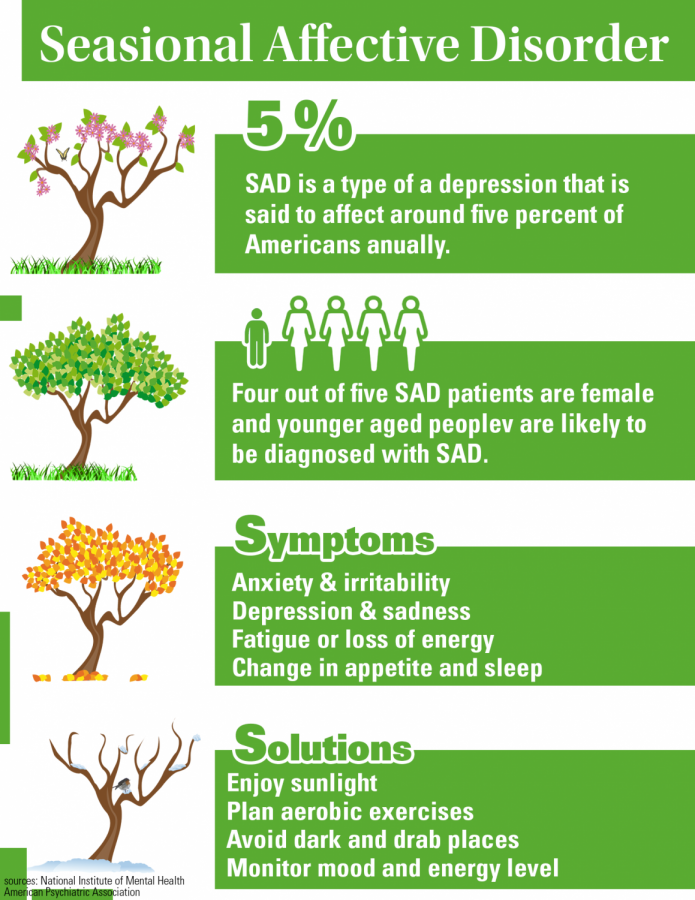 In college, each semester is about 16 weeks long. For many students, those 16 weeks are packed with stress about class and the future. For others, the stress goes beyond just class and the future, many are struggling with depression and specifically seasonal depression.
Seasonal affective disorder, better known as seasonal depression, is a form of depression that typically occurs within the fall and winter months.
"Similar to other mood disorders, it is something that causes clinical impairment and functioning in different areas, those being social, academic, occupational, on a seasonal cycle," said Karen Foster, counseling center director.
The most common reason for seasonal depression is less sunlight.
Other contributing factors are living further from the equator. According to the National Institute of Mental Health, people living further from the equator are more likely to have seasonal depression than those close to the equator.
Other reasons are chemical, according to the NIMH. Studies have found that some people have trouble regulating serotonin leaving less serotonin available.
The chemical melatonin can be a problem too as in winter months with more darkness comes more melatonin production. For some this can lead to more sleepiness and more feelings of being lethargic which are both symptoms of SAD.
ULM students who think that they are struggling are in luck though. As the counseling center offers support for students in need.
"The counseling center generally works by appointments, but if a student is in distress and is in need of urgent counseling, they can communicate that information with the staff, either by phone or by walking into the Center, and arrangements can be made to see that student immediately. Emergency counseling services are available to students after business hours and on weekends," Foster said.
As well as the support the counseling center can give to students, it's also free for students to use.
"There is no charge for the services provided by the ULM Counseling Center. The Counseling Center is funded by both the University budget and a small portion of student fees," Foster said.
Students have an array of services at their disposal within the counseling center to treat any mental illness or stressor that they may be experiencing. Students in crisis may contact the University Police Department at 342-5350 to request counselor assistance.