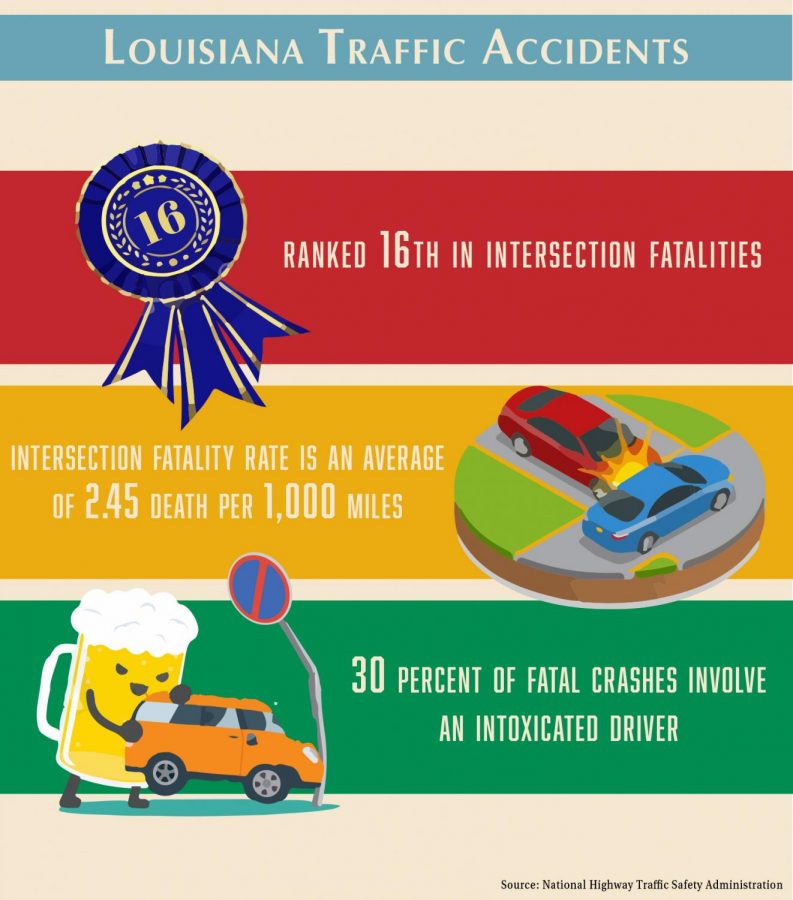 Jnell Casborn hates drunk driving because her cousin died in a wreck involving an intoxicated driver on the interstate.
"The guy who killed my cousin is in jail but that does not bring my cousin back," Casborn said.
But even without drunk driving, Louisiana has one of the highest death rates in the country when it comes to car accidents.
In a study conducted by autoinsurance.org, Louisiana was ranked 16th in intersection fatalities per 1,000 miles of road. That means there are about three deaths every 1,000 miles in the state.
The majority of car accidents happen due to distracted driving, according to the National Highway Traffic Safety administration. One of the main ways people get distracted while driving is by getting on their phone. However, there are many other things that can hinder a person's ability to drive like driving while under the influence.
Louisiana has a high rate of accidents caused by drunk driving. In fact, 30 percent of fatal crashes in the state involve an intoxicated driver. In Monroe alone, there were 12 fatal car accidents in 2017, according to city-data.com. Three of the 12 accidents were caused by drunk driving.
Casborn, a communication major, was not surprised to hear this.
"I believe people need to think before they do more often before getting behind the wheel. Innocent people have lost their lives because of these selfish activities," Casborn said.
As drunk driving is a major cause of accidents in Louisiana, it is important to know what to do if you are drunk and need to get home.
The responsible thing to do is to ask someone who is not under the influence of any alcohol or drugs to drive you home. You could also call for an Uber if you are in the Monroe area.
It is better to not drive under the influence because you may be pulled over. And if you are pulled over, you could be given three different options— jail time, a fine or a defensive driving class. Sometimes, you may have to do all three.
But most importantly, drunk driving can result in you or someone else getting hurt or worse— someone dying.
Road safety is a shared responsibility for all drivers on the road. A safe driver is cautious and considerate of others' lives while behind the wheel.
To avoid becoming a victim in one of these fatal crashes, wearing a seatbelt is important for every passenger in the car. Drivers should also avoid using their phones even at red lights.