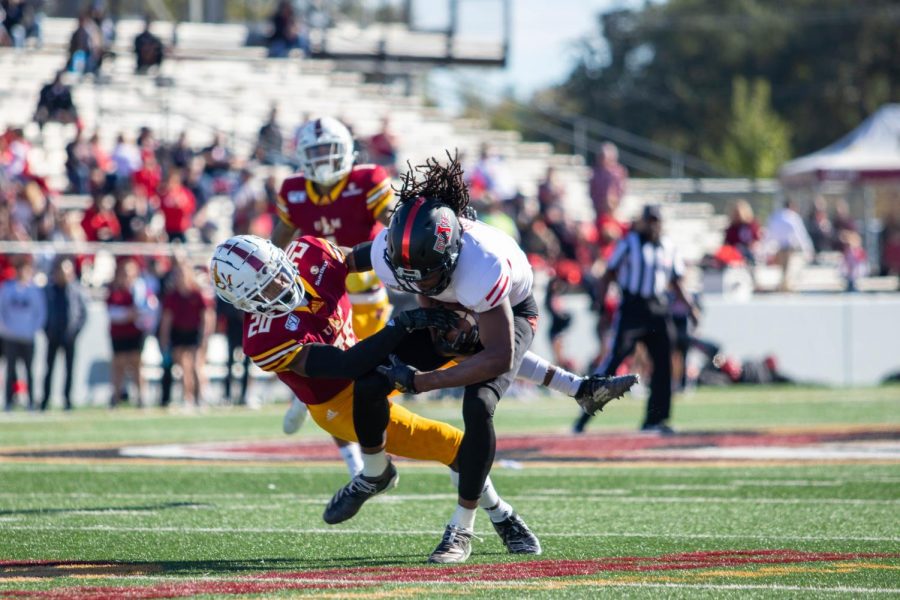 Gameday back on the bayou. The Warhawks (3-5,2-2) went into their homecoming game looking for a win against a tough Sun Belt Conference opponent in Arkansas State.
The Warhawk faithful were treated to an absolute classic at Malone Stadium as the home team lost a heartbreaker 48-41.
The Warhawks are now 3-5 overall and 3-2 in conference play with a potential bowl game being less and less possible.
The Warhawks will have an opportunity to change the level of difficulty as Georgia State will travel to Malone Stadium on Nov. 8.
Speaking of a bowl game, representatives from The Cure Bowl from Orlando, Florida, were also in attendance seeing both Sun Belt teams go back and forth.
All doubts of the Warhawks abilities after their last game were put to rest with the third play of the game.
A 67-yard touchdown run by senior quarterback Caleb Evans gave homecoming fans a reason to cheer early on.
It was the Warhawks longest scoring play of the season. Evans also broke the school record in career rushing touchdowns, he now has 32.
Evans became the third quarterback in ULM history to go over 10,000 yards in total offense.
"Nobody can really stop us unless we stop ourselves, I just told them to keep their heads straight I'm just proud of the way they kept fighting throughout the four quarters," Evans said.
A few minutes after the touchdown and with the score still 7-0 the Warhawks recovered the ball courtesy of junior linebacker Traveion Webster who recovered a muffed punt on the Arkansas six-yard line.
Junior running back Josh Johnson finished the drive off with a six-yard touchdown run.
The Warhawks took flight and soared high for what looked like an easy victory.
For the first time this season all gears seemed to be working in unison. The defense was solid. The offense kept finding ways into the endzone and all was good on the bayou.
The Red Wolves finally found their way onto the scoreboard via a field goal.
ULM responded immediately scoring their third touchdown via a 34-yard touchdown pass from Evans to fifth-year senior wide reciever Markis McCray.
And then it happened. Four touchdowns in a row from Arkansas State brought the game to 31-21 in Arkansas' favor halfway through the second quarter. Before the half ULM scored again but were still down by three points.
Junior cornerback Corey Straughter brought the Warhawks back to life halfway through the third quarter with an interception, his fifth of the season. Evans rushed for 23 yards for another touchdown and the game was tied 34-34 after a missed field goal.
The Red Wolves responded with two more touchdowns to the Warhawks one. It ended 48-41 in Arkansas' favor.
"At the end of the day we're all we got we just got to go in there watch film, study, get better from there," Evans said.