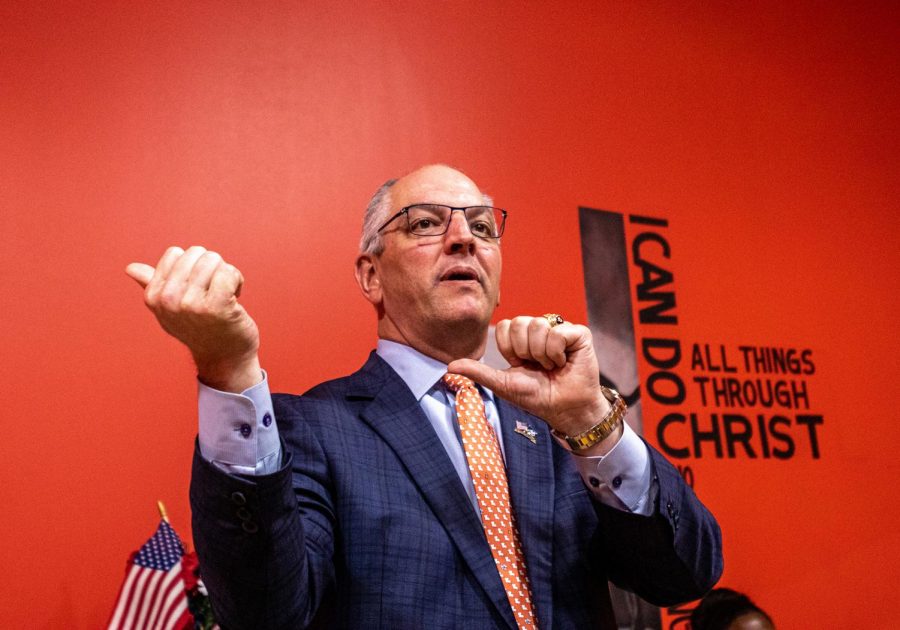 As Monroe moved on from President Donald Trump campaigning for gubernatorial candidate Eddie Rispone, current Louisiana governor John Bel Edwards campaigned himself.
Governor Edwards began his day in Shreveport at the campus of Louisiana State at Shreveport before meeting with Grambling State. Edwards spent his time campaigning in small intimate venues like Carolyn's Danceland in Monroe.
The small audience included District 16 Representative Katrina Jackson and ULM President Nick Bruno.
Edwards spent his time at the dance studio speaking about one thing—health care.
The event aptly named "Medicaid Roundtable Meeting with Governor Edwards" focused on the importance of Medicaid for the state of Louisiana in the governor's eyes.
It also focused on what a Medicaid freeze that Rispone promises would look like.
Edwards painted a bleak picture for the audience describing how other southern states have cut Medicaid and have had hospital closures as well as how it is more expensive and risky for states to not have Medicaid.
"Also, we're saving lives. We're changing the quality of life. In contrast to other southern states who did not expand Medicare, we haven't had any hospitals close," Edwards said.
According to a national report of rural hospitals from independent consulting firm Navigant, Louisiana's neighbor Mississippi is at risk of losing nearly half of their rural hospitals. The study also showed that the main reason for this is the cutting of Medicaid.
Edwards stressed the importance of rural and poor people being able to have adequate health care as well as the rest of the population.
Edwards also spent a portion of the evening answering questions from the audience ranging from the future of CenturyLink in Monroe to independent pharmacists.
One of the topics Edwards emphasized during the event was the importance of young people voting in this election. He said the decisions being made now will affect them the most.
"Nobody has more at stake than young people because the decisions that are being made affect them for much longer than someone who is in their 50s." Edwards said. "I would ask them to think back to what was happening four years ago when our state cut higher education more than any other state in the nation, raised tuition more than any other state in the nation and inverted the funding system for higher ed."
Edwards stressed the importance of bringing prosperity and opportunities to Louisiana students.
"Our economy is growing and as a result we are investing in critical programs like TOPs, like Go grants, like need-based aid for higher education and we just made the first new investment in higher ed in a decade," Edwards said.
ULM students in particular have seen the fruits of the state's labor as the state gives $3 million to the pharmacy program and ULM has seen a surplus under Edwards.
"This is what we're doing for Louisiana, we're in much better shape because of it and so are the young people on ULM's campus and the young people all across the state," Edwards said. "I am encouraging them to go out and vote and I'm encouraging them to vote for John Bel Edwards number four."
In the morning before Trump's rally, Edwards visited Monroe to give thanks to his supporters by meeting them and answering questions from the local press regarding his campaign and the opposing rally.