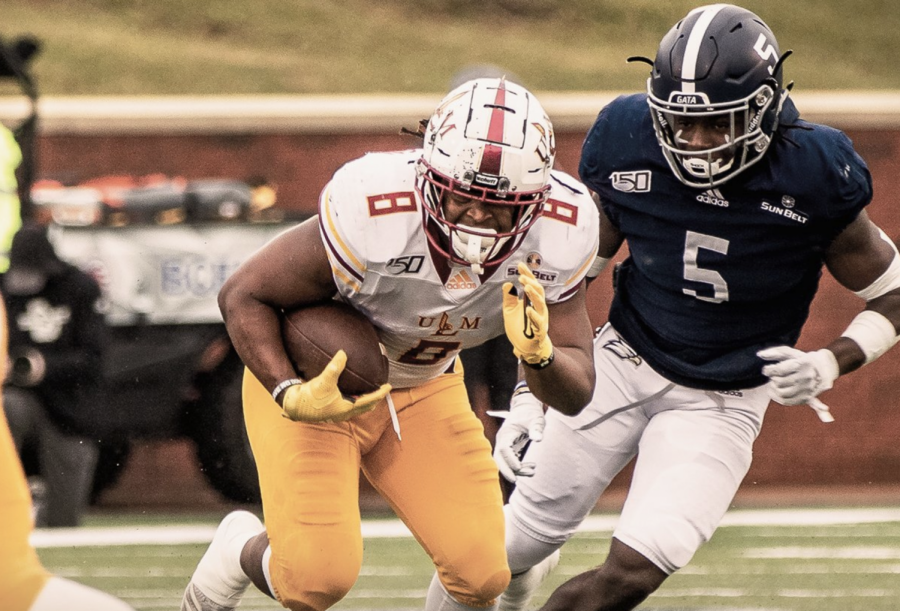 With 12:15 left in the fourth quarter, the Warhawks were feeling confident, just scoring a touchdown followed by a two-point conversion which cut Georgia Southern's lead to 16. All ULM would need is a defensive stop.
ULM would not get it, as Georgia Southern spent 14 plays and 9:27 going up 44-22. Another Warhawk score followed by an onside kick returned for touchdown by Georgia Southern would end the game, ULM losing 51-29.
With the loss, the Warhawks sit at 4-6 needing two consecutive wins against Coastal Carolina and the University of Louisiana Lafayette to just become bowl eligible.
Luckily for the Warhawks, the game against Coastal Carolina will be at four p.m., Saturday, Nov. 23, at JPS Field at Malone Stadium.
In one of the most important games of the season, quarterback Caleb Evans was successful statistically throwing for 285 yards and two touchdowns. What sunk the Warhawks and Evans was turnovers, as Evans accounted for two of the three Warhawk turnovers.
Evans' two interceptions were not the only turnovers as Perry Carter Jr. muffed a punt that Randy Wade recovered at the six-yard line. Trailing by 10 points with 1:09 left in the third quarter, J.D. King finished the drive in the end zone two plays later.
"The three touchdowns off turnovers was the difference in the game," ULM head coach Matt Viator said. "It's hard to do that against a pretty good team, but I thought our defense really battled. We needed to make a few more plays offensively and it didn't go our way today."
One of Evans' interceptions came directly after Carter's muffed punt, this interception, though was returned for a touchdown putting Georgia Southern up a commanding 24 points.
The rest of the offense did not have the same amount of success. After averaging 216 yards rushing per game going in, the Warhawks could muster just 85 yards on 31 attempts, averaging 2.7 yards per carry.
"We just didn't execute as an offense," running back Austin Vaughn said. "There wasn't much room in there to run, but we made it hard on ourselves."
Although the running game was shut down for much of the game, both Evans and Vaughn ran for a touchdown.
The Eagles did not struggle to run the ball as Georgia Southern's trio of quarterback Shai Werts, Wesley Kennedy and J.D. King combined for 231 yards rushing. Werts ran for two touchdowns and threw for 80 yards and another score on 5-of-10 passing.
King was particularly successful rushing 102 yards on 16 carries, adding a touchdown to his totals.
Receivers Jonathan Hodoh and Carter both were successful combining for eight catchers for 163 yards, including a 49-yarder from Carter.