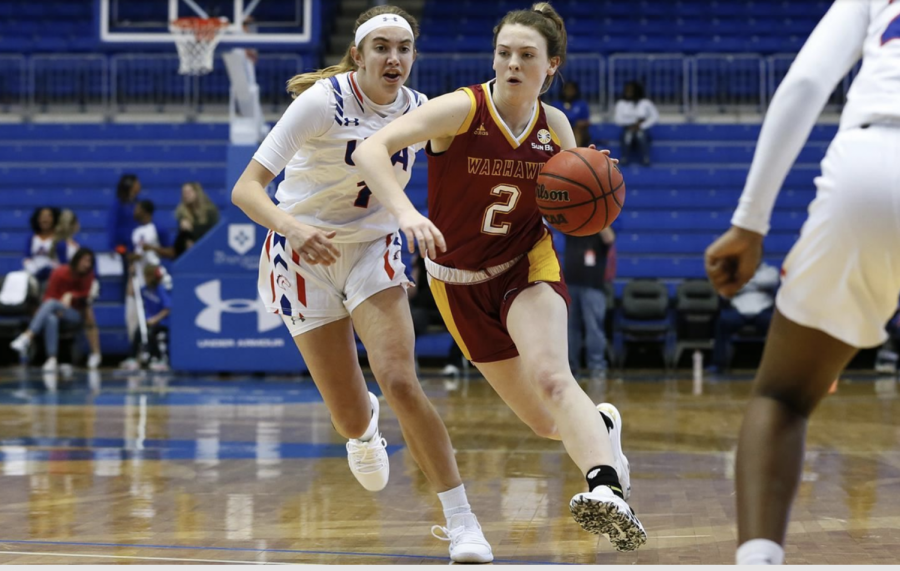 After splitting two games this week, the ULM women's basketball team has won their first road game and their first conference game of the season and the first for first-year head coach Brooks Williams.
The Warhawks beat Texas State, 59-55 before falling to UT Arlington 72-34.
The Warhawks will look to keep competing at home on Thursday versus Little Rock before traveling to play rival Louisiana-Lafayette on Saturday.
The game against Louisiana-Lafayette is followed immediately by the men's game.
"I thought it was huge, number one, to get a road win, and number two, just for our morale and confidence and the change of mentality," ULM head coach Brooks Donald Williams said. "It was really big for this program."
The win happened on a special night for Williams, as she got to celebrate her birthday with a win.
In the against Texas State, the Warhawks were led by freshman Gara Beth Self, who scored a career high 20 points, including a pair of go-ahead three pointers in the fourthth quarter.
Beth Self also matched her career high in assists and rebounds with five and four respectively.
"She played like a veteran tonight," Williams said. "She played really big for us and hit some shots in big moments. I think more than anything, we watched her leadership evolve in floor huddles and timeout huddles."
Beth Self's leadership was seen in the fourth quarter as any time the Warhawks needed an answer she answered, including with the game leading three pointer.
Both Amber Thompson and Diamond Brooks chipped in to beat the Bobcats as well, with 17 points and 10 each.
Brooks chipped in with nine rebounds as well.
The positivity would not continue though as a one field goal first quarter doomed the Warhawks against UT Arlington.
"We had a tough day from start to finish, and just didn't have the consistency and carryover from Thursday night," Williams said.
Self again had a good game, scoring 15 points marking her fourth straight double figure game.
"I thought she was really our lone fighter," Williams said. "She showed a lot of fight, a lot of leadership today. She just never gave up. She showed a lot of resilience for such a young player and one of the least experienced on our team."