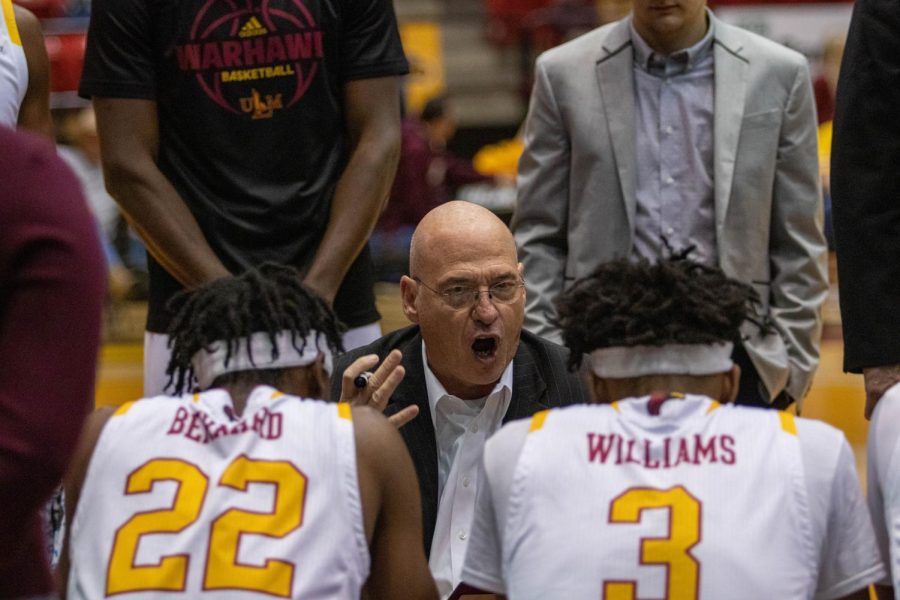 The woes continued for the Warhawks as an 0-2 week pushes the losing streak to five games.
After going nearly perfect at home a year ago, the ULM men's basketball team is barely over .500 at home after a heartbreaking loss to Texas State, 64-63 and a blowout loss to UT Arlington, 78-58.
The Warhawks will look to get back to winning games on Saturday against Louisiana-Lafayette in Lafayette.
Against the Bobcats the Warhawks blew a ten point lead in the second half.
The run was sparked by a technical foul called on Youry White after a block.
Although ULM blew the lead they were still in it at the end. Jaden Hodges hit what looked like a game winning three pointer but it was a split second after the buzzer sounded.
"We are disappointed," ULM coach Keith Richard said. "It's a tough locker room in there right now and rightfully so. Bottom line is, we didn't finish it."
Tyree White led the Warhawks in scoring with 16 points to go along with six rebounds, both Williams and Michael Ertel chipped in 15.
Sloppy play ruined a game in front of a dynamic crowd in Fant-Ewing as the Warhawks lost the turnover battle, 13-6.
The Warhawks allowed for the Bobcats to shoot 23 free throws to their 11.
"We don't have anybody to blame but ourselves," Richard said. "We didn't make the plays to win the game."
Nijal Pearson gave Warhawks defenders trouble all night, scoring 23 points.
Pearson was one of two players for the Bobcats to score in double figures.
More of the same clipped the Warhawks against UT-Arlington as the Warhawks were outrebounded 48-22.
Like against Texas State, the Warhawks allowed for too many free throw attempts as the Mavericks had as many free throws in the first half as ULM did the whole game with 21.
The officiating became a sore spot for ULM as coach Richard was ejected from the game with 1:14 in the first half after Williams was called for a travel.
Richard rushed out to midcourt to tell the officials how he felt.
The ejection was the first of the season for Richard, who had not been ejected since last season against Coastal Carolina.
Associate head coach Ryan Cross coached the rest of the game.
"The story of the game was the offensive rebounding," Cross said. "In the first half, they dominated us at the free-throw line. They attempted 21 free throws and outscored us, 21-7, at the free throw line."
The second half was a similar story as the Warhawks defense struggled to stop the Mavericks as they shot over 50% in the second half.
Tyree White again led the Warhawks in points with 18, Williams joined him with 14.
The Warhawks got very little from lead guards Michael Ertel and Jalen Hodge who shot a combined 5-22, 0-9 from three.