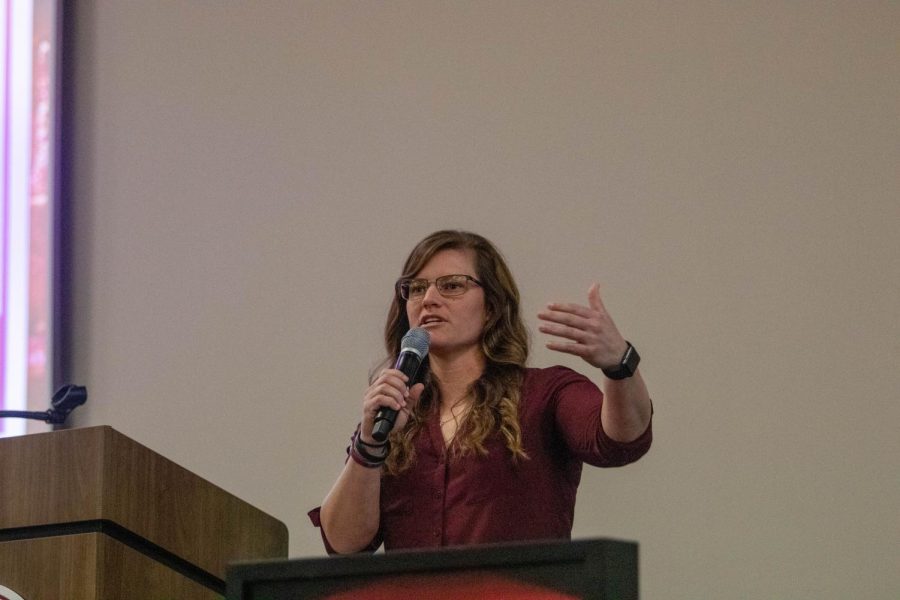 A night that promised to be one of laughter and fun turned into a potential program changing moment Saturday night as the ULM softball team held its second annual Hang Out With the Hawks event.
The event acts as the softball program's major fundraiser as all proceeds go to the team.
The night included a live auction, a silent auction with raffles, dinner, and drinks. The main goals for the program were to raise money to buy an I-hack attack pitching machine, a ticket booth, and a speaker system.
The amount of support left everyone speechless. "This is absolutely exceeded all expectations that we had as a staff. The community wants to be involved. We paid it forward in community service," said head coach Molly Fichtner.
It's safe to say that the program raised that and then some as the live auction alone raised over $45,000 for the program, as one woman spent over 20,000 to buy four signed football helmets. The event as a whole raised over 70k.
The generosity and donations had both the players and the coaches nearly in tears.
"You can't even put into words how that makes you feel as a coach. You're affecting the lives of so many young ladies, who are in college and are at their most vulnerable state of being who they want to be as a woman. You can't put a price on anything like that," Fichtner said.
As the event got further and further along, the players began to realize what was happening the joy and shock on their faces was obvious.
"Just knowing that the community is behind us and knowing what that's going to do for our program is amazing. I'm at a loss for words. It's super exciting to see what this program can be," senior Jayden Mount said.
The event is also another impressive feat for Fichtner early in her tenure as head coach. She can add this fundraising event to other successes like the VLP Player's Lounge that was built early in her first year as well as the additions to the stadium like the Hawk's Nest in right field.
For associate director of athletics Todd Dooley, the success of this event is a great example of why Fichtner was hired in the first place.
"There are very few times where you can point to a coaching hire that ticks off all the boxes and I think Molly Fichtner ticks all those boxes. She was the right hire at the right time for ULM. She's somebody that we continue to build our coaching staff around any time we have an opening," Dooley said.
The community packed Bayou Pointe and left Fichtner wishing to tell them two words: thank you.
"If there was something greater than thank you, I would use it. They're doing way more than they could realize to the student-athletes," Fichtner said.
The season will begin Feb. 7 against Southern University at home.