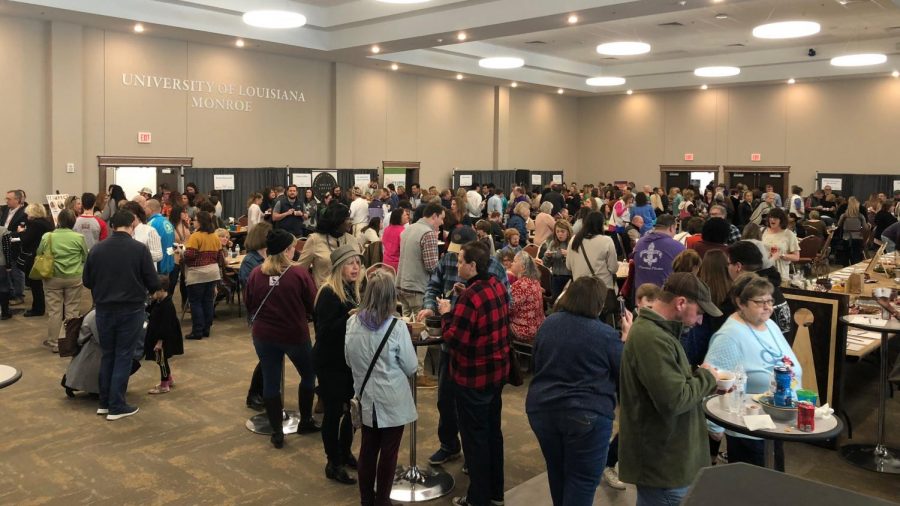 Christina Fussell
Hunger is a major problem in the United States. To help fight it, an event known as Empty Bowls was held in Bayou Pointe. Sponsored by the Food Bank of Northeast Louisiana, this was the fourth year the event has been held.
To participate in empty bowls, you pay $40, pick out a handmade ceramic bowl and fill it with all the food you want.
Food is provided by local restaurants and this year 21 different restaurants participated. They set up booths and gave food to everyone that buys bowls. Some of the vendors included The Fat Pelican, Taste of India and Braiz'n American Bar & Grill.
Sarah Hoffman, one of the event's organizers, has participated in Empty Bowls for all four years. She is the communications officer for the Food Bank of Northeast Louisiana and said that they came up with the idea because there are a lot of other food banks throughout the country and in Louisiana who already do it. They thought that it would be a good thing for their food bank to make happen in Monroe.
The bowls were made by local artists. Many of them were made by ULM art students. They all have their own unique shape and color, with no two bowls being alike. You can even watch art-ists making ceramic bowls from scratch.
"My favorite part is the pottery," Hoffman said.
She even started taking pottery classes and made some of the bowls this year.
The bowls are not the only reason to attend the event for though. There is also live music and t-shirts for sale.
It's a great big social event. Everyone walks around breathing in the good scents and talking with friends.
There were many people helping with the event as well. Everywhere you turned there was a student volunteer picking up trash, helping people out and making sure things were running smoothly.
Some volunteers sat in the front, taking money, distributing bowls and making friendly conversation with the attendees.
One volunteer was Maiah Hardin, a third year pharmacy student. She had never attended or volunteered at Empty Bowls in the past so this was her first year participating in the event.
"We usually volunteer with the food bank throughout the year as pharmacy students," Hardin said. "So it was really cool to be contacted about this event and I like that it's going to a good cause."
She also said that if her schedule permits, she will definitely be volunteering again next year.
The $40 price may have discouraged you from going to the event but if you skipped out on it this time you should definitely go to the next one. The price is well worth all of the good food you will eat and the fun you will have.
But the event is not only about having a good time, it is about helping people in need.
"The bowls are a symbol of all of the empty bowls we have here in our community," Hoffman said, adding that one in five people in northeast Louisiana are food insecure.
"By coming together for an event like this, we're helping them fill those bowls."