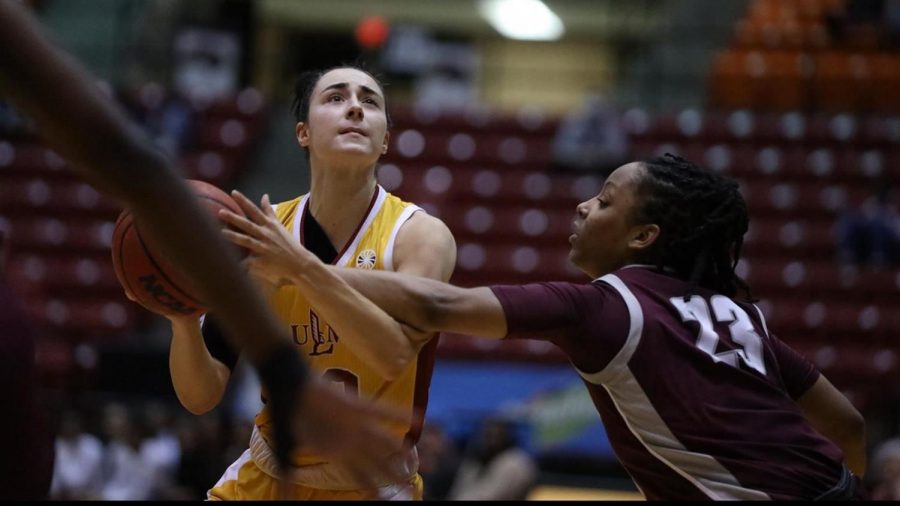 The second half doomed the Warhawks (3-16, 1-7 SBC) during their recent home and away.
After a solid win last week, the Warhawks have continued a new losing streak falling in consecutive games pushing the streak to three.
In their first home game in over two weeks, ULM fell 70-50 against Little Rock, with an opportunity to right the ship against rival University of Louisiana-Lafayette but fell again 68-55.
The Warhawks will have one opportunity to end the streak at home against Arkansas State on Feb. 1.
For the first time since Jan. 8, the Warhawks returned home and battled for three quarters even though they had just nine active players as second leading scorer Amber Thompson missed the game with illness.
The fourth quarter was where it unravelled for the Warhawks as the Trojans outscored ULM 20-6 after entering the quarter up just six.
"We battled for three quarters," ULM head coach Brooks Donald Williams said. "We had spurts where we looked really good. Little Rock is extremely well coached and took advantage of our offensive scoring droughts and miscues."
The Warhawks scored just two points over the final 8:59 after freshman Gara Self Bath attempted to keep ULM in the game to begin the fourth.
Self Bath led the Warhawks in scoring that evening with 14, she also tied for the most assists with three.
Diamond Brooks also scored in double figures for the Warhawks with 11.
"Obviously we missed having Amber Thompson on the floor tonight," Williams said. "She's a scoring threat and generates opportunities for others. For three quarters, we handled her absence extremely well."
The return of Amber Thompson did not change the outcome against the Ragin' Cajuns.
Just like against the Trojans, ULM was in the game for two quarters entering half time tied 26-26.
The third quarter would sink the Warhawks as ULL opened on a 21-0 run to begin the third quarter.
"We're disappointed," Williams said. "We thought we had a great opportunity here today. We had some really big moments that were costly for us."
ULM would also allow the Ragin' Cajuns to go on an 11-0 run in the middle of the fourth quarter to seal the game.
The Warhawks had three players in double figures as Whitney Goins had 13 with three three pointers.
Brooks had 13 and 10 rebounds for her second career double-double.
Self Bath rounded out the trio adding 10 to her strong freshman campaign.
"Diamond continues to grow and continues to get better," Williams said. "We actually thought we missed her some today. I thought she could have been more productive this afternoon, but we're excited about her growth and want her to continue to capitalize on her opportunities in the paint."
In her return, Thompson set a career-high in rebounds with 10 and added four points to that.