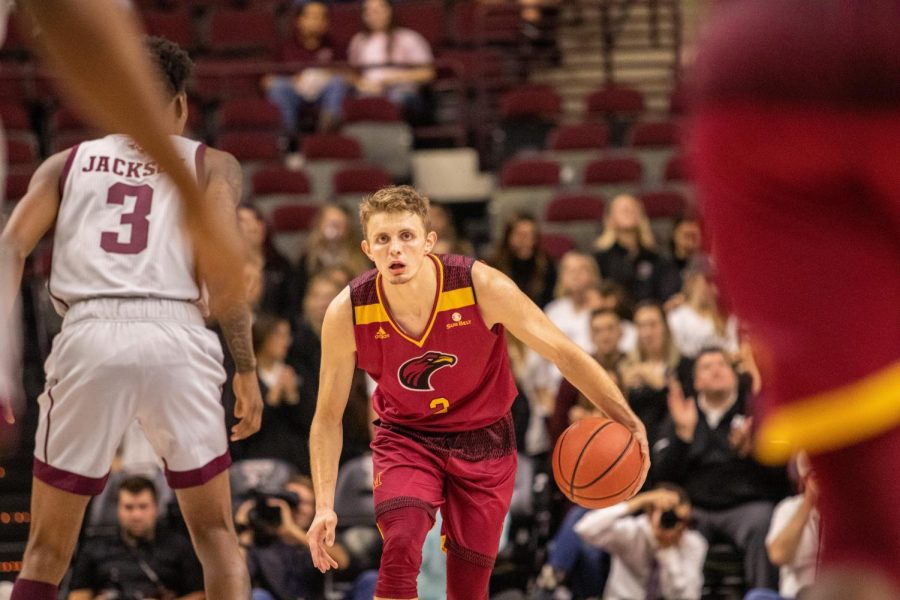 Miles Jordan
After a solid, if not underwhelming 6-7 start to the season, the Warhawks have dropped six consecutive games putting the Warhawks in last place in the Sun Belt conference.
ULM's most recent loss came at the hands of rival and second-to-last place University of Louisiana-Lafayette, 81-60.
Each loss during the current losing streak has been against a Sun Belt foe with the last conference win being nearly a month ago on Jan. 4 against South Alabama.
The Warhawks will have two opportunities to break their streak against Sun Belt foes Texas State and UT Arlington on Thursday and Saturday. Both games are on the road.
After another poor offensive performance the Warhawks are stuck looking for answers.
"You look at our offensive numbers and they're not really good. Three of 16 from the three point line, 11 of 22 from the free throw line overall from the field we're shooting 38% and open shots or good plays at the basket, we couldn't make them." ULM head coach Keith Richard said. "We really needed to keep pace there a little bit offensively to stay in the game."
Part of the offensive struggles can be attributed to losing second-leading scorer JD Williams who hurt his ankle just three minutes into the game. Williams had already scored by the time he was hurt.
To pick up the slack the Warhawks turned to Tyree White and Michael Ertel, the third and first highest scoring players.
White put up 15 points on 6-11 shooting to lead the Warhawks, White also led the Warhawks in rebounds with 13.
Ertel struggled from the field shooting just 4-12, netting 13 points. Langston Powell and Jalen Hodge added 10 and 12 respectively but like Ertel shot poorly, combining for 9-23 from the field.
"Two things that coach Muller and I said it there at half court after the game and shook hands. First of all they played well, really well. Maybe their best game of the year and second of all losing JD on that injury changed the whole complexion of the game," Richard said. "We're talking about a team, in us, that has already struggled to score at times in particular on the road losing him really hurt."
The Ragin' Cajuns had one dominant performer in Jalen Johnson who put up 27 while shooting a blistering 7-10, with three threes and while going 10-12 from the free throw. Nearly matching the entire Warhawks output from the charity stripe.
The Warhawks matched the Louisiana with 35 rebounds, getting more offensive rebounds at 11-7. ULM also had less turnovers then the Ragin' Cajuns at 13-14.
Free throws sank the Warhawks as ULM could not convert while Louisiana did hitting 26 of 32 shots from the free throw line.