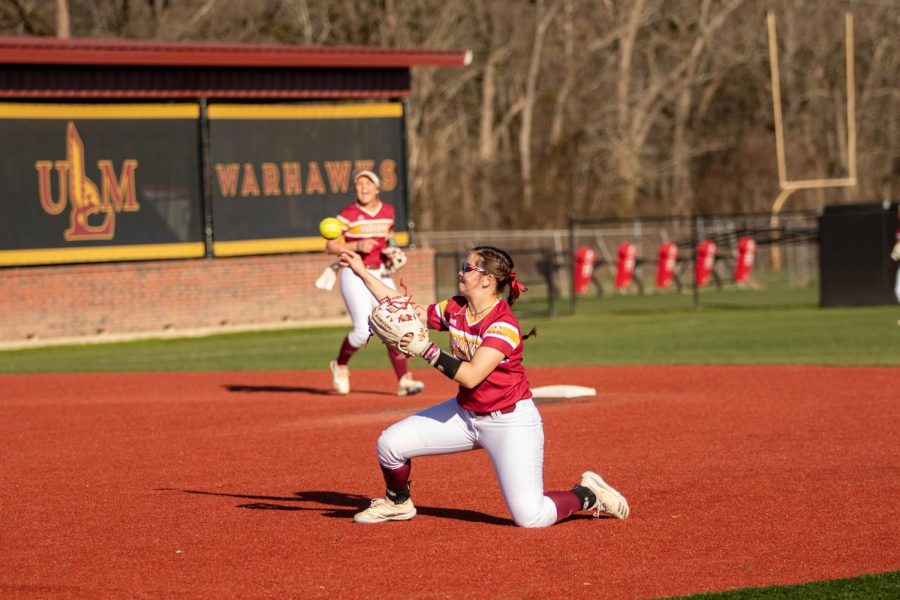 Conference play has begun for ULM softball as the Warhawks traveled to Statesboro, Georgia to face off against Georgia Southern.
The Warhawks (9-13, 0-2 Sun Belt) would drop the first two games of the series, pushing their losing streak to three, losing five of their last six.
ULM will look to rebound next week as they return home to face McNeese State on Wednesday before welcoming conference foe UT Arlington to the softball complex over the weekend.
The Eagles struck quickly in the first game of the week, scoring six runs in the first two innings, including four in the first, falling 9-6.
ULM was never able to rebound from the slow start. Pitcher Amber Coons struggled to find any footing as after a fielder's choice allowed the first run of the game.
Coons would then walk three consecutive batters scoring three for the Eagles on the walks. Coons' day would end there.
"I don't think our defense had our starting pitcher's back tonight and when you don't have pitching or defense, you give up a lot and it bites you," head coach Molly Fichtner said.
Jessica Williams would get the Warhawks on the board in the top of the second with her second home run of the season. Georgia Southern would answer with a home run of their own extending the lead to 6-1.
The Eagles would answer every Warhawk attempt to equalize the game.
"I was really pleased with our hitters, but we have to clean up some things and throw a few more strikes and a little less balls," Fichtner said.
After the fifth, Adrianna Chavarria would come in to pitch, pitching two scoreless innings. Chavarria's two innings would turn into six more the following day.
Chavarria would throw a complete game, giving up four runs in her first loss of the season as the Warhawks fell in the second game 4-3.
Both pitchers would keep the scorecards clean until the fourth inning as the Eagles got on the board first after an Olivia Creamer triple was followed up by a sacrifice fly.
The Eagles would answer a late tie by the Warhawks as after Chavarria walked the first batter Faith Shirley would hit a walk off double.