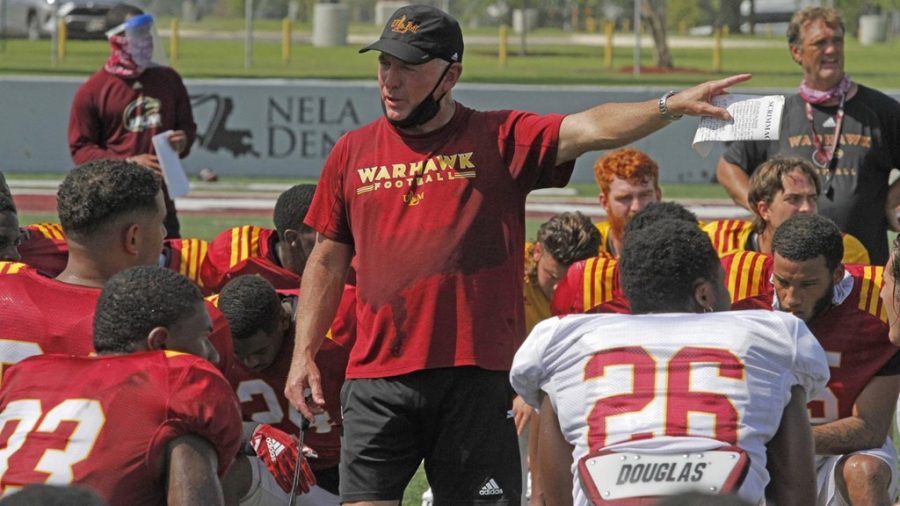 The Warhawks' first meeting against Army West Point's Army Black Knights did not go as gloriously as they were hoping for. ULM went into the game as the underdog, missing two defensive starts and other key contributors.
Army started out strong by scoring two different times before the Warhawks picked up their first down, and by halftime, Army felt they had the game under control.
Unfortunately, the Warhawks' woes would continue into the second half going three-and-out and getting fooled by a fake punt that gained 47 yards. Army scored four plays later making 24-7.
ULM's new defensive coordinator, Scott Stoker, was not ready for Army's triple option. Their defensive allowed 436 rushing yards and stayed on the field an astonishing 37 minutes, 40 seconds.
Army was led by the fullback, Jakobi Buchanan, who put up a whopping 106 yards and two touchdowns on 11 carries.
Army's quarterback, who left the game in the second quarter, ran 21 times for 95 yards and two scores.
ULM's defensives were not all doom-and-gloom as they were led by Traveion Webster, who had 11 tackles, and nose tackle Mason Husmann, who had six stops and a fumble recovery that was brought by safety Keilos Swinney.
"The big thing we can take out of this is we didn't stop as a unit," Webster told the News-Star. "We may not have always gotten off the field, but we played with intensity and that's something we can build on."
ULM's Colby Suits started out slow, but he would eventually find his rhythm by scoring the lone scoring driving with a six-yard touchdown pass to Malik Jackson.
Suits completed 73% of his passes, passing for 148 yards, and one fumble in his first career start. Jeremy Hunt would enter the game for three series and finished 2-of-5 for 15 yards and a single interception.
Entering this game, ULM was hoping its special team would have improved from last year, but it seems it picked up where it left off.
The special team allowed a fake punt from its own 35-yard line, lineback Catoe Wilson ran to ULM 18-yard line.
The special team's misery continued with Army blocking a field-goal atte,mpt from David Hughes in the first quarter and a block punt in the third quarter.
When things seemed to be on the right track, ULM kept tripping over their own feet. They would block a field-goal attempt by Army to negate the play with a timeout. Army's Landon Salyers went on to make his second attempt from 40 yards.