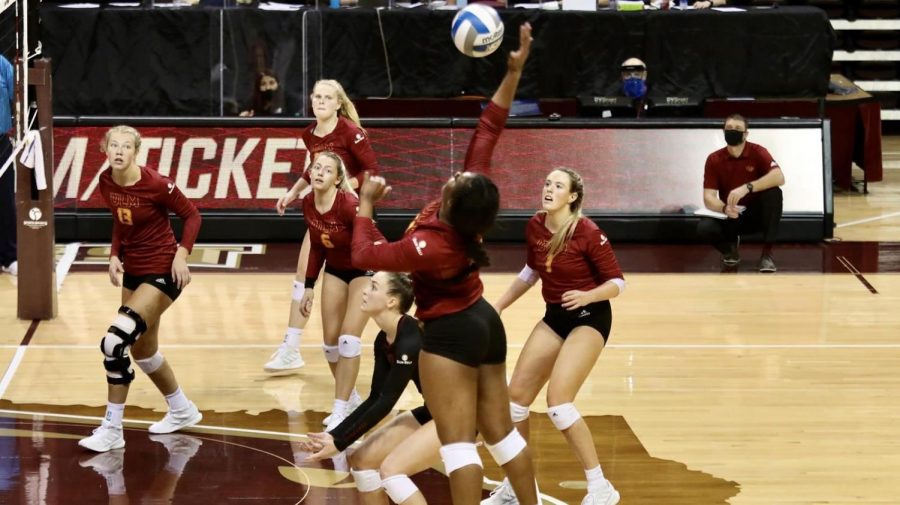 ULM volleyball went head-to-head with a tough Texas State lineup Friday night at Strahan Arena. The Bobcats rushed the Warhawks with a pair of 3-0 wins in epic fashion but not without a fight.
Kicking off the first match, the Warhawks (1-4, 0-2) and Bobcats (7-1, 2-0) would go point-for-point, taking turns scoring at the net. With the score at 3-3, this would be the final time the two teams tied. The Bobcats would continue to go on a 22-10 run, finishing the initial set 25-13.
The second set followed similarly, with Texas State notching 25, while ULM grappled 16. ULM regained their control in the beginning of the third set, keeping the Bobcats at bay and locking the game once again at 3-3.
Texas State would find their momentum, knocking over a 6-0 run and widening the gap to 9-3. The third set would then end in favor to Texas State 25-18, giving them a 3-0 sweep on the Warhawks.
Head volleyball coach, Charlie Olson, said, "It's always a humbling experience playing on the road at back-to-back SBC champion Texas State. To play them twice in the same day adds to the challenge. Now, to turn around and play them a third time just adds to that challenge exponentially."
Much like the first match, Texas State would hook the first tallies, pulling themselves into an early lead and leaving ULM to rush for a win in the second match. The Warhawks managed to hoist past the Bobcats 6-5 and 9-8, but shortly after Texas State would go on 13-5 run, finishing the first set 25-14.
In the second set, the Warhawks stormed the court for a 4-4 lockdown. Fighting for a lead, Texas State bounced back 5-4, only to be tied again at 5-5 and 7-7.
The Bobcats would then rally their forces and push back with a 12-9 lead, followed by a claim on the second set 25-16.
In Warhawk fashion, the ULM volleyball team blazed through the scoreboard in the third set. They racked up a 4-1 lead in the very beginning.
When they tied at 7-7, the Bobcats would break the Warhawks' winning score shortly after, grabbing 18 markers to beat ULM's 7 more.
The ULM volleyball team will battle the Louisiana Ragin' Cajuns Friday, Oct. 2, for another chance to redeem themselves.