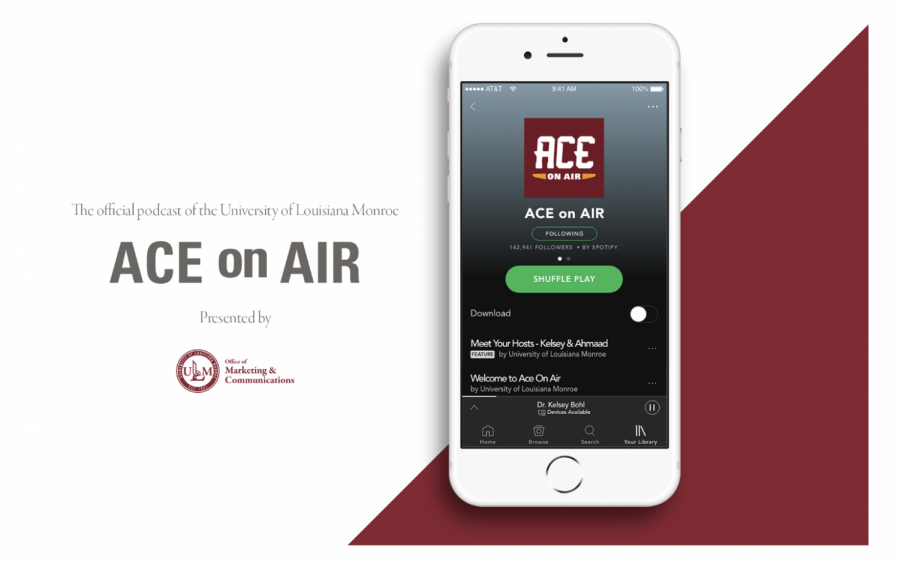 www.ulm.edu/omc/aceonair
ULM has always had media that provokes thought, insight and discussion. For example, KULX 91X, the school's long-running radio station, was was the first all-digital radio studio in northeast Louisiana.
Now, there's something new that all students can tune in and listen to. ULM has launched a podcast called "Ace on Air."
It's a biweekly podcast hosted by executive director of marketing and communication, Kelsey Bohl, and the assistant director of student experience, Ahmaad Solmone.
Bohl is optimistic about the future guests of "Ace on Air."
"ULM is such a diverse campus and nobody's story is anything like somebody else's. I'm excited to get a firsthand account of these unique and incredible life stories," she said.
They're planning to have a diverse group of guests including members of different student groups, alumni and various faculty members.
The targeted length for each episode is 20 to 30 minutes, so everyone has time to casually tune in and learn about each episode's exciting guest, while still giving listeners an episode that is more than worth their time.
In the era of social distancing, a podcast is an excellent way to both inform and entertain people who have long felt disconnected from much of the world.
Listeners can simply download each episode and experience the personalities of people they may only know through pictures or schoolwide emails.
The two are longtime fans of podcasts, and they said it's been something they've wanted to do here at ULM for a while.
They were ecstatic to announce the podcast's debut earlier this year. Their eccentric and colorful personalities will bring out the best in their guests.
The first full-length episode, which aired on Thursday, Oct. 1, starred ULM's new President Ronald Berry and first lady Christine Berry.
The episode gave an excellent look into Berry's goals as president. Listeners got to know about his personal life in the episode, which is named "Patience is a Long Time." All 45 minutes of it exhibit Bohl and Solmone's potential as hosts.
They urge listeners to give them suggestions for who they would like to be featured on future episodes. Students can contact them via email or visit this link.