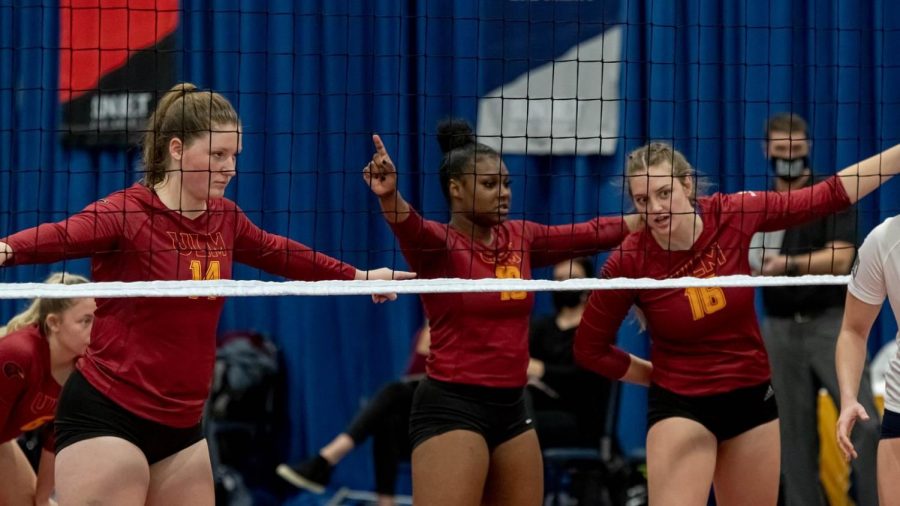 ULM Athletics
ULM volleyball played in its final game this season, taking a loss to South Alabama in the Sun Belt Championship tournament.
The South Alabama Jaguars gave their all against the Warhawks in three sets with the scores being 25-16, 25-18 and 25-19.
The seniors fought valiantly in their last game in a Warhawks uniform. They earned praise from Coach Charlie Olson.
"They played great and left it all on the court," Olson said. "The chance to play in the postseason was outstanding."
While each set would remain competitive early on, the Jaguars went on runs that would put the game out of reach. In the first set, the Warhawks made it a two-score game on several occasions but the Jaguars would score seven of their next eight that would keep the Warhawks out of the remainder of the set.
South Alabama came out strong in the second set and held off the Warhawks for most of the game. ULM found a sense of urgency late as they closed the gap to 19-17 after a number of errors on the Jaguars' side.
The Jaguars fought back yet again to take the second series. In the third and final series, ULM would come out strong and take the lead for the first time all game.
ULM held a 7-4 lead until South Alabama went on a scoring streak and reestablished their hold on the series.
After getting to a 18-13 lead, the Jaguars would then proceed to put the game away.
While the record has not reflected it, this team has shown growth throughout the season, and with the youth this team has, this growth will hopefully be carried over to next year.
Only a few Division I teams would get the opportunity to play in over 20 games this season, and Olson felt that all of the games were "very high quality and challenging play."
Most of the major contributions in this game came from the younger players on the team. Junior McKinley Thieded led the team in assists with 12 while sophomore Hailey Hughes recorded three blocks and sophomore Madeline Hogan posted seven digs.
All of these players will return with more experience and leadership that will give this team the potential to compete next season.