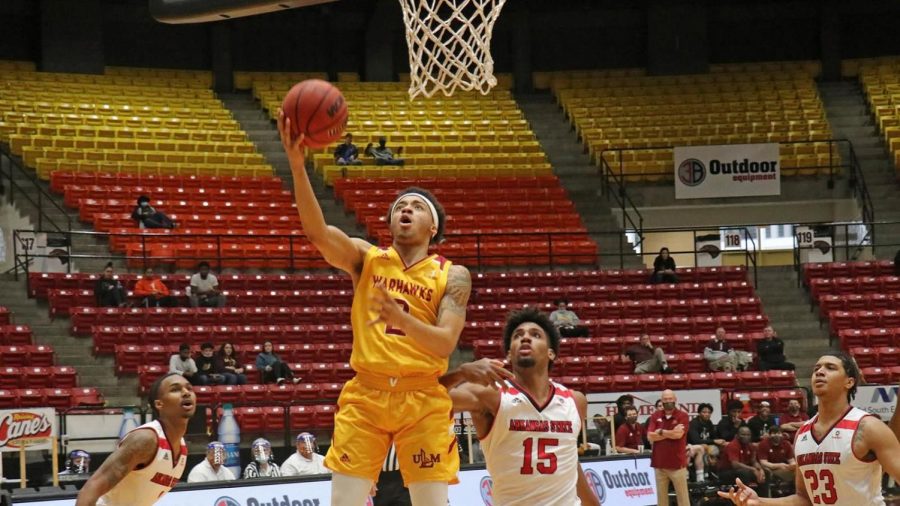 ULM Athletics
The Warhawks two game series against Sun Belt foe Arkansas State was the tale of two drastically different games. After dropping game one 74-72 on a questionable goaltending call, the Arkansas State Red Wolves cruised to a 93-72 victory the next night.
Coach Keith Richard's gameplan worked well through game one. The Red Wolves defense sought to limit perimeter shooting in the first half, resulting in interior players like senior center Chris Efretuei having a strong first half.
After adjusting to prevent scores in the paint, perimeter shooting would come into play. Unfortunately, this would be abismal for ULM. Coach Richard commented "We have got to be able to make some threes to help our offense. We got more open shots from the 3-point line in the second half but went 3-for-13."
Game two was still up for grabs until the late second half. Freshman Red Wolf Norchad Omier had a memorable game for his young career. The forward led his team in scoring and rebounding with 22 points and 17 rebounds.
The Red Wolves appeared to be much more committed to the rebounding game compared to the Warhawks. The Red Wolves recored 44 rebounds in both games while the visiting Warhawks never reached 30 boards.
The Red Wolves tempo would be too fast-paced to leave a traditional center like Efretuei in the game, so he saw limited play. In his place, a more agile player such as freshman forward Thomas Howell, who had 12 points in game two. Junior guard Elijah Gonzalez would help push the pace of the game, coming off the bench with 16 points and leading the team in assists.
This series sweep marks the fourth meeting between the two teams, where the record stands 2-2. The losing streak for ULM is now at four in a row, as the Warhawks hold the worst record in the Sun Belt at 4-9. Next on the schedule is the 9-4 Texas State Bobcats in Fant-Ewing.