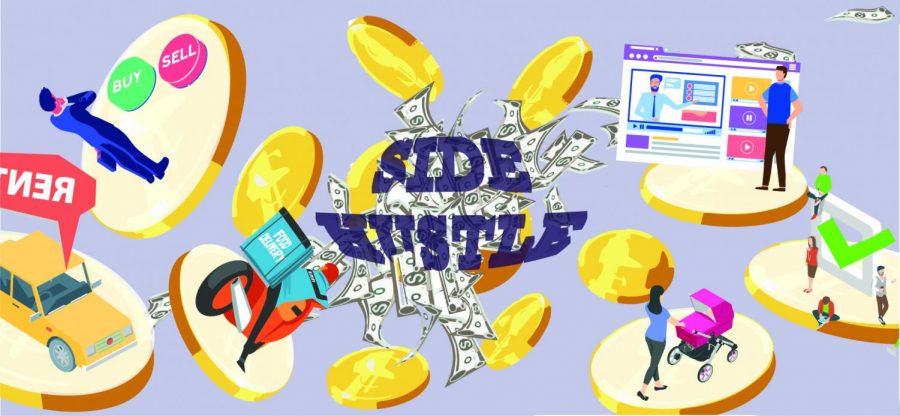 Sunil Bishwokarma
We can universally say one thing about college: it sucks thousands of precious dollars from your life savings. According to educationdata.org, the average cost of attending a public college, with all expenses counted, exceeds $100,000—enough to buy a new 2020 Porsche Cayenne in full, plus change. How would one earn extra greens while cramming for that exam tomorrow?
Jennifer Miranda-Harris, senior speech-language pathology major, works full-time at a preschool. She also babysits as a side hustle.
"School has gotten so expensive that working part-time just doesn't pay the bills,"Miranda-Harris said.
While college education has been getting more and more expensive, coronavirus has blended the world into a smoothie of stress, inconvenience and isolation. If you recovered from the virus or just want to help out, visit places like Grifols.
Grifols is a pharmaceutical company that pays you up to $100 for donating plasma. Rebecca Landry, a graduate student of clinical mental health counseling, does her fair share of kindness.
"Donating plasma is a great way to earn extra cash," said Landry. "If you haven't had COVID, it's usually $50 per donation. I try to go once a week."
Perhaps you don't like kids or hate needles—how about investing? Chan Alfred, senior criminal justice major, is a customer service representative at CenturyLink and began studying the stock market last year.
"I never wanted to owe any loans, and I'm very big on saving," Alfred said. "[Investing] had been bringing more capital than my job brings a whole year."
As for advice, Miranda-Harris urges flexibility. Find work that matches your schedule and emphasize time management. She also suggests recording a budget to track fees.
Alfred encourages investing and using your talents to make money.
Freddie Authement, senior psychology major, advises students to balance their job and school.
"I made the mistake of prioritizing a job over my education," said Authement, "[I] almost lost my GPA over it."
How should you spend your money? Students like Harris, Landry, Alfred and Authement use their money as any responsible college person should—for textbooks, rent, bills, car payments, groceries and a little splurging.
Money is an essential luxury in university. Keeping a sufficient stash of cash is half the battle to surviving college this academic battlefield. Mean greens are king on campus.