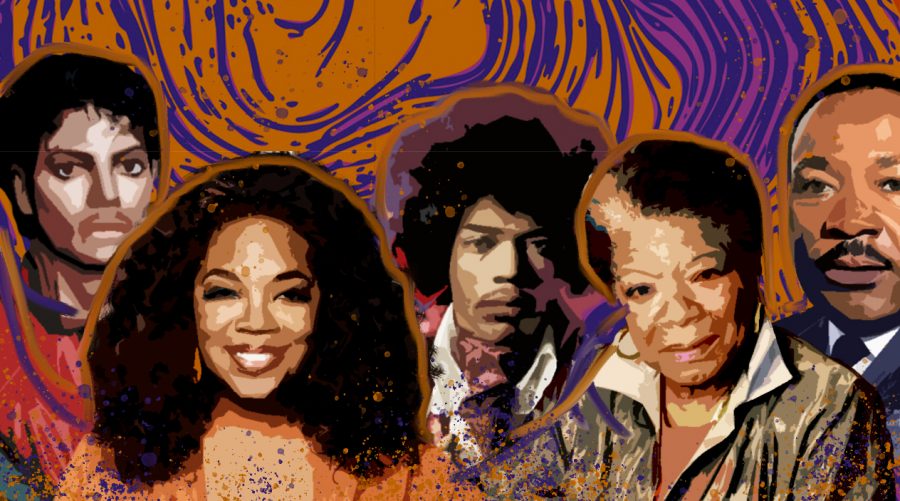 Martin Luther King, Jr. Malcolm X. Michelle Obama. Kamala Harris. These people pop up often when talking about beloved African American figures. Schools teach about King as early as elementary. It's not every day someone gets their own national holiday.
Michelle Obama showed that the seemingly unattainable dream of a colored First Lady isn't an impossibility.
In honor of Black History Month, students and faculty gave their choices of great Black figures in history that they look up to and why.
Brook Little, president of ULM's Rotaract, is a singer who lives and breathes music. She believes Black culture is thoroughly weaved into music history.
"I can sometimes hear the influences from singers like Whitney Houston, Michael Jackson and The Clark Sisters," Little said. "When I hear what many Black people refer to as 'cook-out' music, it makes me feel so warm and happy."
Randall Hughes, freshman pre-occupational therapy major, chose late actor Chadwick Boseman as one of his role models.
Hughes said Boseman was an inspiration and made people remember the hardships they faced in life. The actor's biggest obstacle was his colon cancer–which he never publicly announced to everyone's surprise.
"I find it amazing that even though he was sick, he kept [his cancer] to himself," Hughes said. "[He] enjoyed what was left of his life to the fullest, without having people feel bad for him."
Hughes also said Boseman can be a positive role model for children of color, especially after his most famous role as T'Challa in "Black Panther."
Senior Computer Science major, Rojit Rojit, looks up to French soccer midfielder N'Golo Kanté as one of his favorite sportsmen.
According to Premier League, Kanté plays for the Chelsea Club with more than 100 wins and ten goals. Dubbed as "The Blues," Chelsea is an English soccer team based in Fulham, London.
Kanté was awarded "Player of the Season" during the 2016/17 season. In the 2015/16 and 2016/17 season, he was honored as Premier League Champion.
"His character is exuberant and he is adored by everybody," Rojit said. "[He is] extremely talented yet surprisingly simple and humble. A man that is hated by nobody."
The world has many Black figures people idolize as role models, from young and old to popular and underrated. Black people inspire everyone regardless of race or creed–proving the universality of such a rich culture.