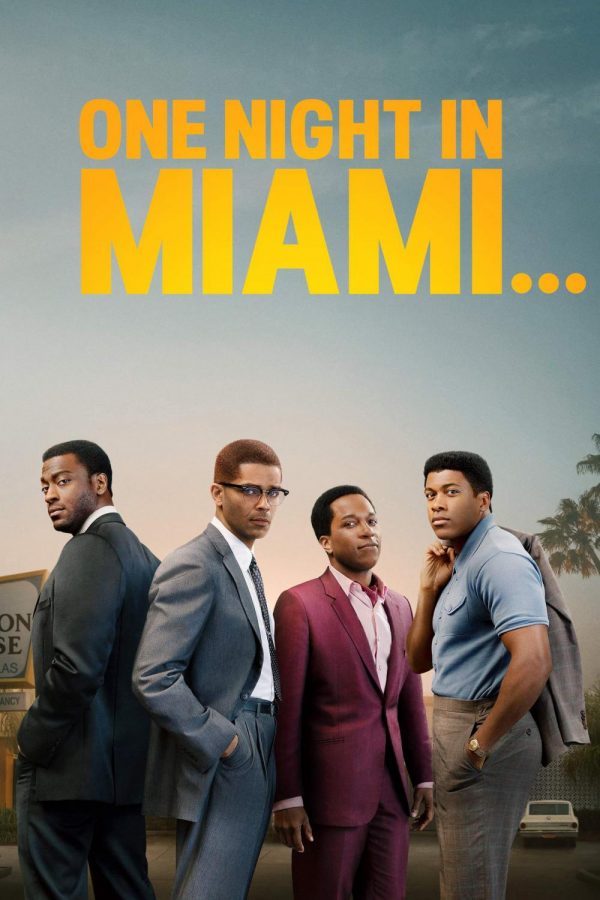 Let's travel back to the 1960s. Wars in Vietnam raged with anxious eyes on televisions and anti-war protests. America was traumatized from President John F. Kennedy's assassination. The civil rights movement saw Blacks rise to fight lifelong oppression and violence based on their basic human rights.
"One Night in Miami" deals with four of this era's greatest black legends: Malcolm X, Muhammad Ali (then known as Cassius Clay), Jim Brown and Sam Cooke.
Regina King's Golden Globe-nominated directorial debut "One Night in Miami," tells an excellently performed tale of four Black stars in one hotel room sharing their ideas, successes and heated clashes. It rejects the golden "show, don't tell" rule, focusing on dialogue guaranteed to glue your eyes to the screen. This film was adapted from a stage play by Kemp Powers, writer of Pixar's "Soul." You can find this movie on Amazon Prime Video.
Feb. 25, 1964–Clay wins his famous boxing match against Sonny Liston. To celebrate, Malcolm invites his friends Cooke, Brown and Clay to a hotel room for the night. There is no alcohol or pretty women–it's just them.
Malcolm wants to talk about their successes in a white man's world and announce Clay's conversion to Islam. This is where Clay receives the name we know today, Muhammad Ali. During the night, tensions arise as ideals collide.
Our men are played superbly by actors who closely resemble their real counterparts. Kingsley Ben-Adir as activist Malcolm X gives an eloquent performance later bursting with anger and paranoia. Eli Goree accurately displays the egotistical Clay, later revealing hidden insecurities.
Leslie Odom, Jr. swings as Sam Cooke with infectious vocals. Listen for Cooke's beautiful song "A Change is Gonna Come" at the end. Aldis Hodge plays NFL footballer, Jim Brown, who is on the brink of retirement. You may recognize Hodge from 2020's "The Invisible Man."
The men create an awesome dynamic with each other. They all share being Black, famous, successful and victims in a prejudiced country. However, they differ in professions, ideas and experiences.
Malcolm wants Blacks to charge against the "white devils," demonizing all whites for Black oppression. Cooke disagrees and believes music is universal–if a Black man can win over white audiences, racial barriers may finally break. Brown considers acting after football as sports careers don't last forever. Clay smugly denies this, showing his sense of immortality and belief in being unbeatable.
King's "One Night in Miami" is an outstanding example of the stylish Black artistry Hollywood needs. It tells a dramatic, dialogue-heavy story based on real figures armed with stellar performances. Reserve your stay, relax and "peace be with you, brother."