Matkins captivates through sound and stage
It's rare for college students to be used to the spotlight, but for Kade Matkins, it's just another day in the life.
Matkins has been acting since he was young. He first starred in childhood plays at the local library and eventually started acting at the Strauss Theater. As he grew up, he began taking roles in plays such as "The Crucible," "Little Frankenstein" and "Big River."
But his talent really began to flourish when he became a part of ULM's Visual and Performing Arts program.
VAPA welcomed Matkins onto the stage in 2020 with a small role in the musical "Jekyll and Hyde." Unfortunately after "Jekyll and Hyde,'' VAPA took a break from all plays and musicals due to the rise in COVID cases.
When VAPA returned, Matkins stepped into a narrating lead role in "The Glass Menagerie." Acting as Tom, Matkins portrayed the troubled emotions of a man whose family depends on him, while also showing Tom's ambitions for a larger life than the one he is currently living.
His next role came in the spring semester of 2022 when he was given the opportunity to act as Atticus Finch in "To Kill A Mockingbird."
Preparing for such large roles can be difficult. Many actors prefer to base their performance around past adaptations of the play they are working on, but Matkins likes to interpret and figure out the script on his own.
Matkins said that he likes to sit with the script and get a feel for the part he has to play. He asks the director for guidance, but mainly comes up with his own inspiration.
"I've always liked performance," Matkins said. "I liked doing voices and telling stories ever since I was a little kid."
Matkins even wanted to be a voice actor when he was a kid but realized when he got older that he preferred acting as a hobby.
He felt that if he turned acting into a paying career, he would not enjoy it as much as he does now.
"I wanted it to stay as something fun that's an escape from the everyday," Matkins said.
That's why he chose computer science as his major.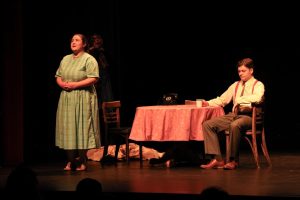 While he likes computer science, it is more of a career for him, whereas he sees acting as something he gets to do for fun.
Matkins decided to try out computer science because he had a lot of friends in the major. Now he has a year left before he graduates and enjoys the challenge computer science brings.
Along with performing plays, Matkins also spends his time calling out the "Top 40 Hits" list on 91X KXUL.
91X KXUL is ULM's student-operated radio broadcast where Matkins is an announcer.
Matkins has been at the radio station since he started college at ULM. He started out as a DJ, but moved up the ranks as higher positions opened up. Now he works as the operations manager.
Sitting behind the mic, Matkins has fun with his audience. Matkins said he can talk about anything he wants, rather it be news, events or even jokes.
He finds his manager position to be exciting and challenging, but in a fun way. As operations manager, Matkins trains volunteers and shows them how to announce and run the station.
Performing, whether it be through the soundwaves or on a stage, has become a place for Matkins to express himself.
"I think it all blends together," Matkins said. "I enjoy performance in all its forms."
You can hear Matkins on the Saturday or Sunday radio show or you can come watch him perform at VAPA's next play "Barefoot at the Park" on Sept. 28 through Oct. 2.