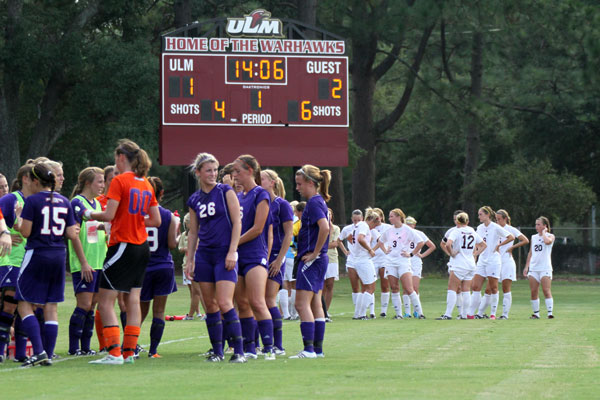 The ULM soccer team (1-1-1) won its season opener against Central Arkansas 2-1. Head coach Stacey Lamb pushed her girls to fight for the first ULM win of the new year.
"We needed that win. We needed to start the season off right with this win," Lamb said.
Sophomore Alyssa Lopez and freshman Alyssa Wooden each scored a goal to put the Warhawks on the board.
In her debut, sophomore goalkeeper Hannah Linzay held UCA to just one goal and recorded five saves.
The team traveled to Nicholls State on Sunday, coming away with a tie at 1-1. Wooden put up the only point for the Warhawks in the 29th minute. The team went down 0-1 early but goalkeeper Linzay finished the day with nine saves to hold Nicholls State.
"We had plenty of opportunities to get the ball in but we couldn't seem to finish," Lamb said.
After two overtime periods, the game was called a draw.
The team returned home Tuesday for its home opener against Northwestern State. After falling behind 0-2 early in the first half, the Warhawks would go on to lose 2-4.
"We can't shoot ourselves in the foot early." Lamb said. " We made two early mistakes and they capitalized."
The Lady Demons outshot ULM 18-10 in the match and had a 10-8 advantage in shots on goal. Goalkeeper Linzay recorded six saves for the Warhawks.
ULM has a four-day break and will return to play Sunday as they welcome Southern University. Kick-off is scheduled for 1:00pm at the ULM Soccer Complex.