2010 Football Season Preview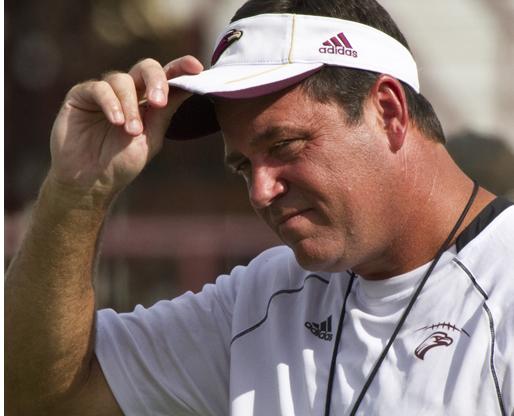 University of Louisiana at Monroe head coach Todd Berry will lead the Warhawks football team On Sept. 11, 2010 in Little Rock, Ark., to battle against the Arkansas Razorbacks.
After completing summer practices in the grueling heat and humidity, along with the hard work they have put in this offseason, the ULM Warhawks will be ready for their season opener. There have been changes this offseason in game style and intensity.
"I'm really excited about it," Berry said. "I liked the intensity in practice.  This is a very young football team, and we don't have a lot of senior starters, along with the simple fact that we are in transition in style of play. So there's an awful lot to learn."
Among the seven starters ULM lost on defense from the 2009 season were National Football League draftees, Cardia Jackson and Aaron Morgan. Also, a major transition will take place at quarterback as redshirt freshman Kolton Browning beat out senior Trey Revell for the right to start.
"I thought coming out of the spring that it was pretty close although Kolton, certainly based off our of standards in terms of taking care of the football and moving the team, was by far the most consistent within the group," Berry said. "I think that the separation has become more and more dramatic throughout the course of preseason camp as Kolton became more comfortable with the offense. It got to the very end to where it really wasn't a close competition at all."
All will not be a complete loss for Revell though, as he will move to tight end in hope that he can become a starter there.
"We didn't know if it would be a permanent move, but he was concerned about being a senior and opportunities to play, certainly with Kolton Browning's emergence and Cody Wells coming on," Berry said. "We supported the move. He requested it, so we tried it out."
One definite starter returning is senior running back Frank Goodin, who is on the watch list for the Doak Walker Award, given at the end of the season to the best running back in the nation.
The West Monroe native is coming off of a historical 2009 season where he ran for 1126 yards and 13 touchdowns, both top-five season marks in school history.
However, with only 873 yards and eight touchdowns, Goodin will break both records that are currently set by his predecessor, Calvin Dawson.
"It has always been a dream of mine," Goodin said. "I'm off to a good start where I'm pretty much ahead of where I planned on being. That's a record I'm looking forward to break, not for selfish reasons, just because I know that my productivity has a lot to do with the team's success."
The tilt against Arkansas will be the ninth match-up between the two teams, with the Razorbacks winning the eight prior match-ups.
Arkansas opened the season ranked at No. 17, and is led by junior quarterback Ryan Mallett.
Mallett, who is considered to be in the race for the Heisman trophy, was impressive last season after throwing for 3624 yards and 30 touchdowns to just seven interceptions.
"I think they're a much better football team than any point of time whenever I was here before or over the last several years. I think you're looking at a team that's very explosive on offense, probably have a first-round pick next year at quarterback. They have all their running backs and receivers back from last year, when they were a top-ten team in the nation in total offense and scoring offense. Part of it is just trying to limit the scoring opportunities that they have on offense."
If there is one thing that the Warhawk faithful can hope for, it is their last meeting against the Razorbacks in 2008.
ULM led 24-6 in the third quarter, before Arkansas came back to win the game late, 28-27.
Goodin knows that it will come down to the will, want, and hunger.
"We know that they're an SEC team, so we know what they're bringing and we have played them before in the past," Goodin said. "We know it's going to be a dogfight. Whoever wants it the most, in the end, is going to be the winner."