Berry, ULM agree to contract extension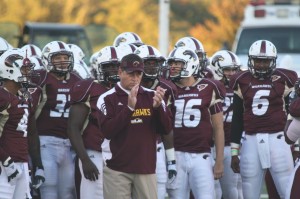 On the heels of an 8-5 season–ULM's best in 25 years–head football coach Todd Berry has received a four-year contract extension.
The agreement was approved on Friday by the University of Louisiana System's Board of Supervisors and runs through the 2016 season.
"I am excited about the opportunity to continue my coaching career at ULM," Berry said. "I am appreciative of the university's efforts to make our program better and we are doing our part as we continue to strive to be strong both on and off the field."
Berry's new deal pays him an annual base salary of $200,000. The ULM Athletic Foundation will also provide an additional $50,000 in salary that increases to $100,000 after the 2013 season.
Berry is eligible for several salary incentives based on team performance. He will receive an extra $25,000 for winning a conference championship and playing in a bowl game. A bowl bid will net Berry an additional $5,000.
Since becoming ULM's coach in December of 2009, Berry has compiled a 17-20 record with one bowl appearance in the 2012 Independence Bowl.