Art Exhibition Reception awards students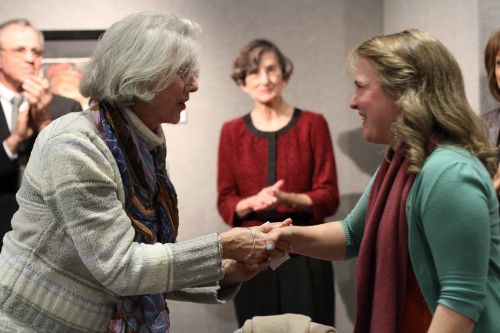 The Visual and Performing Arts department held its Student Art Exhibition Reception Thursday, Feb. 28.
Guests were able to walk around the gallery and explore the various pieces. Art ranged from canvas pieces and photography, to pottery pieces.
"[The annual art show] is open to all students around the university. We have an outside juror come in and decide what is going to be in the show and to make awards. It's a wonderful opportunity for the faculty to enjoy the talent because we don't have to grade or judge it. Sometimes we forget how talented our students are, and the show is a good way to be able to step back and appreciate it," said professor of art history Gwenda Swan.
There were many awards given.
The Administrative Awards were as follows:
President Nick Bruno chose the print "The Rebuke" by Danielle Gurgiolo and the photograph "Looking for Luck" by Christy Demitro.
Executive vice president Stephen Richters chose the drawing "Fiery Cow Skull" by Alyssa Guidry Posey and the drawing "Left Overs" by Sara Beth Howard.
Vice president of academic affairs Eric Pani chose the mixed media piece "Secret Brownies" by Betsy Putnam and the graphic print "Celebration" by Brenathia Tenner.
Interim dean of arts and sciences Mike Camille chose the mixed media piece "An Art Museum's Empty Studio" by Betsy Putnam.
Head of VAPA Derle Long chose the print "Back Again" by Michelle McDaniel and the mixed media piece "V is for Chesney" by Betsy Putnam.
The Campus Activities Board chose the metal sculpture "Erosion of a Man" by Brenathia Tenner and the mixed media piece "Paper Cranes" by Jonathan Aiken.
DataBank IMX Merit Awards were given for the painting "V is for Chesney" by Betsy Putnam, the sculpture "Service" by Leah Norris and the painting "Mamma, Star is Falling" by Nabin Rana.
The photograph "Outsiders" by Lane Davis was awarded the Ken and Terry O'Neal Graphic Design Award.
Brenathia Tenner's sculpture "Erosion of A Man" received the Prismacolor Product Award.
The guests voted for the People's Choice Award, which was given to the mixed media drawing for "When Bunnies Decide to Be Dentists" by Victoria Smith.
Sara Beth Howard's monotype print entitled "House Fire" was awarded the Alumni Award of Excellence.
The Division of Art Award was given to the stoneware and wood work "Well Run Dry" by Ben Bennett.
Betsy Putnam's mixed media piece "An Art Museum's Empty Studio" was awarded the Gretchen Masur Dean Best of Show Award.