Maroon dominates in Blood Series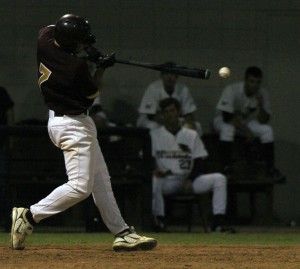 Sometimes, Maroon actually can outshine Gold.
The Maroon team defeated the Gold team 4-1 in this fall's best-of-five ULM Maroon & Gold Blood Series at Warhawk Field.
As a result, the Gold team will donate blood as a part of the baseball team's traditional good spirited wager, now in its seventh year.
The series started well for the Maroon team when they recorded a 6-3 win over the Gold team in the series opener on Oct. 7. In his first- ever start for the Warhawks, Brent Gay pitched 5 1/3 innings, gave up one run on six hits and struck out six.
The Maroon team rallied from a slow start and eventually won the game with a five-run sixth inning sparked by a grand slam by Jarrett Hammond.
The Maroon team played catch up in game two as well. Jeremy Sy put the Gold team ahead 8-6 in the top of the eighth inning with a grand slam.
However, down by two in the bottom of the eighth, the Maroon team scored four runs to come back and win the game 10-8.
Senior Wil Browning dominated Game 3, with six innings of four-hit, one-run ball. Sophomore Andrew Richardson closed out the final three innings for the Maroon team as they won the game 4-2 and clinched the sweep of the series over the Gold team.
With the outcome of the series determined, the two teams still played the remaining two games and the Gold team was looking for a win before fall practice concluded. The Maroon team won game four 5-1, but the Gold team would finally get their first and only win in game five by a score of 7-4.
The Warhawk baseball team finished 17-38 overall last season and is looking to improve on that record for this spring season.
The Warhawks return 16 players from last year's team including freshman All-American Judd Edwards, weekend starters Drew Granier and James Jones, closer Wil Browning and position starters Caleb Clowers, Jarrett Hammond, Matt Laird and Kelvin York.
The 2011 season for the Warhawks begins against the Texas-San Antonio Roadrunners on Feb. 18 at Warhawk Field. ULM is looking to go back to the Sun Belt Conference baseball tournament, which will be held at Monroe.