Celtic Festival hits right notes in Monroe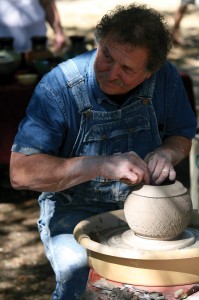 The annual NELA Celtic Fest took place for the fifth time this past weekend.
The purpose of the fest is to preserve and explore Northeast Louisiana's Irish and Celtic heritage.
NELA is also known as Celtic Louisiana because of its rich Celtic and Irish influence on the city of Monroe.
This preservation and exploration is done through music, dancing and storytelling
Performers came from as far as Ireland, such as The Mairtin de Cogain Project. Others, such as Legacy and the Jackson Irish Dancers, came from Jackson, Miss.
The NELA Celtic Fest is run completely by volunteers. They all come together to promote the Celtic culture in a family and visitor friendly setting and way.
Heather Morris, a volunteer coordinator, is so thankful for the others who help put the festival on every year.
"We can't do the festival without volunteers. Period," Morris said.
Students from ULM's Honors Program helped out also.
The students helped out with miscellaneous tasks from selling T-shirts to giving directions to heating up snacks for the performers and crew.
"It's really neat to volunteer and see the Celtic culture. I got to watch a blacksmith make a knife," said Justice Law, a freshman computer science major and Honors Program student from Springhill.
The fest is a localized event, and is even sponsored by local businesses, one of which was the ULM Visual and Performing Arts.