Students swap places with admin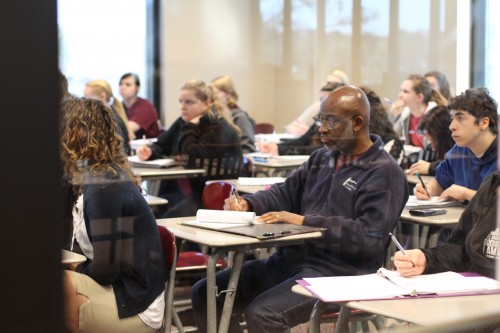 Gwendolyn Ducre
March 25, 2013
ULM President Nick Bruno took over seven pages of notes for sophomore pre-nursing major Julian Cain's statistics class. Cain covered for Bruno at all of his meetings for the day.
Cain and Bruno was just a pair of the students and faculty and staff who switched places Wednesday as a part of 31 Ambassador's Big Switch.
Cain said being the president of a university isn't all bad. He got to ride around in the ULM golf cart, got an assistant and free coffee.
The hard part came when he actually had to go to the meetings. Everyone wanted a raise.
Cain learned the meaning of management when he had to tell everyone no. He said that was the hardest part of his day.
"I knew he was a busy man, but now I know he is a really busy man. I have the utmost respect for him and I know he's here for us students. Though sometimes we may look at it as a bad thing, he has the best interest, and that includes faculty as well," Cain said.
Bruno said it had been close to 20 years since he last was in a classroom.
Pre-nursing major Abby Eyryan switched with Seth Hall, who works in recruitment and admissions.
Eyryan started her day with music by Outkast and filling out answer keys for the upcoming PREP tests.
Lisa Miller, who also works in admissions, also switched with a pre-nursing major. Miller noticed a stark difference in the learning habits of students now, compared to students she went to school with.
She said Moodle would have been a big help back then. She was able to print off the notes and just follow along in class.
Miller also noticed the change of student's posture. When she was in school, students were attentive and sat correctly in their seats. This would help them to pay attention and not miss out on any notes.
"All administration should participate to see the student's different learning dynamics, and for students and faculty to be reminded what it is they are here for," Miller said.