ULM choir and orchestra share the stage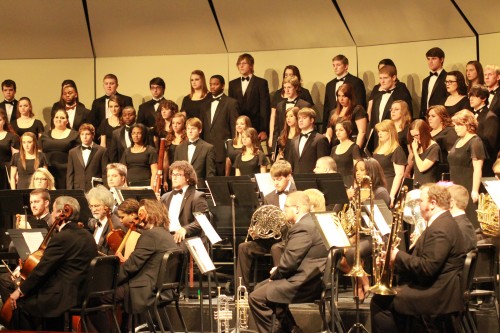 The combination of song and instrument blended into one sound at Thursday's choral and orchestra concert in Brown Auditorium.
The ULM department of music presented "A Tapestry of Song," a concert that showcased the ULM women's choir, concert choir, chamber singers and chamber orchestra.
"It was a successful collaboration between the two ensembles," said Julian Jones, a music instructor at ULM and accompanist. "It's important that the choir has the opportunity to sing with an orchestra and vice versa."
Professors of music Jason Rinehart and Deborah Chandler took turns conducting the night.
Chandler dedicated the song "Begräbnisgesang" to the late H.P. Jones towards the end of the concert.
With about 80 performers gathered together, the stage was full of ULM students and faculty showcasing their department's talents.
"It's a big rush. You have to overcome nerves, but when you are able to play the part right, it'll send chills down your spine," said Alex Gilbert, a freshman music education major. Gilbert played percussion.
Upcoming performances include "Guys and Dolls" on April 18, 19, 20 and 21, and "Stars of Tomorrow" on May 4 at 7:30 p.m.