ULM swept by FIU, 5-2, 7-2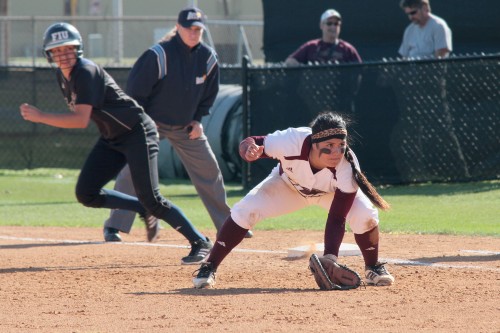 GAME 1 – 5-2
ULM fell behind early and never recovered, losing 5-2 to FIU on Saturday at Warhawk Field.
The Warhawks (16-19, 3-7) quickly fell down 3-0 to the Panthers (23-19, 6-7) in the second inning before Elena DiMattia's RBI ground out got ULM on the board.
ULM pulled within one run in the third inning, but would come no closer to closing the gap. FIU held the Warhawks scoreless for the rest of the game.
Stephanie Routzon went the whole game for ULM, giving up eight hits in seven innings pitched. As a team, the Warhawks recorded two hits.
GAME 2 – 7-2
FIU stayed hot at the plate to start the second contest, leading off with the game with a home run.
ULM quickly found themselves down 6-0 in the midpoint of the fourth inning. An RBI single by shortstop Summer Melancon scored ULM's first run in the bottom of the fourth.
ULM didn't get on the board again until. the sixth inning thanks to Janel Salanoa's RBI single.
Haylie Wilson pitched all seven innings for the Warhawks, giving up three earned runs on eight hits. ULM recorded six hits, but struggled to score runners all game.