Fishing team reels in number-one ranking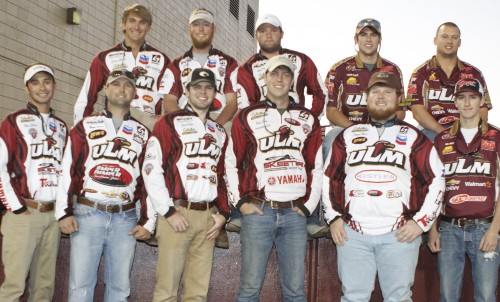 As the ULM fishing team enters the home stretch of the 2012-13 season, it can look back on a historic season of accomplishments.
After finishing last season ranked second, the program has reached the pinnacle of the sport. In just its fourth year of existence, the team has spent the last three weeks ranked number one in the country.
"This ranking is great," team advisor Ralph Swillie said. "The main thing is that the guys work hard. They have jobs, they go to school and they fish."
The team competes against schools from all over the country in tournaments sponsored by the Association of Collegiate Anglers (ACA). ULM leads second place Arkansas Tech by 33 points in the ACA standings.
Since fishing is not an NCAA sponsored sport, team members are responsible for funding their own tournament and travel expenses.  Currently, the team is selling t-shirts to help with its expenses.
For more information, visit the team's Facebook page by searching: ULM Fishing Team.
The collegiate fishing season began on July 1, 2012 and runs through June 30 of this year.