Omega Psi Phi, Delta Sigma Theta crowned winners at annual step show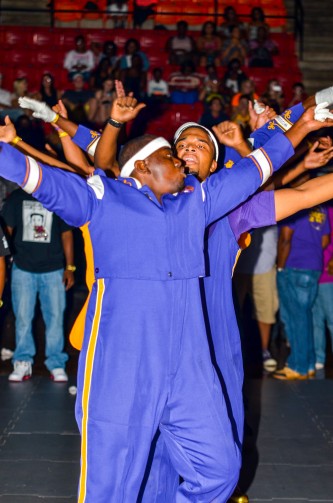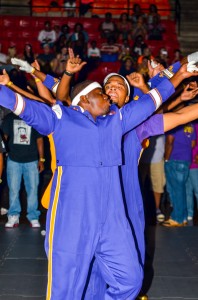 Students, family and friends gathered into the Fant-Ewing Coliseum Sept. 6 to watch their favorite sororities and fraternities battle it out at the I-20 Classic Step Show.
The show, hosted by Robert Powell III and DJ BayBay, began at 8 p.m. and featured music from Go DJ Star of 100.1
The ladies of Delta Sigma Theta Sorority Inc. took home first prize for the sororities. Dressed in black tops, army fatigue pants and red boots, the ladies graced the stage with an army theme.
"We started the minute we knew that we were going to have a step show in the fall semester, we were working really hard, late nights and early mornings," said Candice Johnson, senior and member of Delta Sigma Theta Sorority Inc.
The men of Omega Psi Phi Fraternity Inc. took home first place for the fraternities.
Hitting the stage with a marching band theme, they dressed in purple and gold band attire. Towards the end of their performance, a "baby" Omega came out and stepped with them.
"It took a lot of hard work and dedication.," said Riccie Gray, a junior kinesiology major and a member of Omega Psi Phi Fraternity Incorporated. "We had plenty [of] long nights and early mornings, but it paid off in the end result."
Both winning organizations received $1000 prize.
Seven of the nine National Pan-Hellenic Council organizations hosted on the ULM campus competed at the show, along with Grambling State University's fraternity, Omega Psi Phi.
Each organization took the stage in the order they were founded, starting with fraternity Alpha Phi Alpha and ending with fraternity Iota Phi Theta.
Each organization picked a theme to center their act around, ranging from "Battle of the Bands" to "Army."
The brothers of Alpha Phi Alpha Fraternity Incorporated dressed in black shirts and khaki pants with an "Aphi High" theme.
There was a glitch in their performance, but they ended it with a stepper running on the other members' backs.
The Alpha Kappa Alpha Sorority Inc. wore pink scrubs and sparkling green heels while presenting a "test subject" theme.
Zeta Phi Beta Sorority Inc. stepped with a "Charlie's Angels" theme, wearing blue tops and black pants.
Known for their precision, the ladies of Sigma Gamma Rho Sorority Inc. went with a military theme, wearing cargo pants, black shirts with gold writing and gold combat boots.
And finally, a lone member of Iota Phi Theta Fraternity took the stage. He was later joined by two young girls who stepped along with him.
The step show was one of the many joint events with Grambling State University over the weekend.