Rufyikiri slams way to first place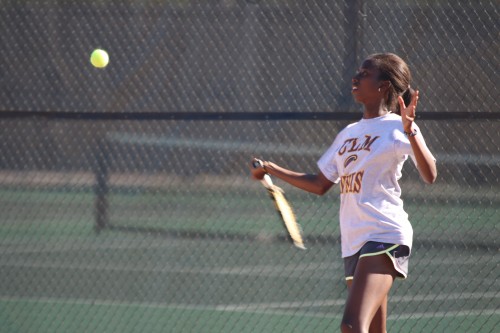 Dakota Ratley
October 14, 2013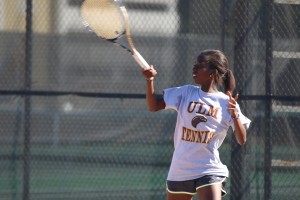 ULM tennis had a big weekend with junior Sophie Rufyikiri notching a first place finish at the Ragin' Cajun Women's Tennis Classic in Lafayette.
Rufyikiri was elated following the big win.
"It really feels good. It just means that all the hard work has paid off. It really builds my confidence," Rufyikiri said.
This is the third final she has made it to. The other two were cancelled due to weather.
Rufyikiri has managed to post a 6-0 record in singles play this year.
Coach Terrence De Jongh praised Rufyikiri's efforts this year.
"Sophie has been a roll lately," said Jongh.
He also spoke on the effect her winning has had on the team.
"That's good. It's always good when they can build their confidence and get on a roll like this. Now it's about maintaining it as well. We've got to keep it up," Jongh said.
Rufykiri's performance earned her the coveted Warhhawk of the Week honor.
The team now turns its attention to the Georgia State Southern Shootout held in Atlanta, Georgia. It will be held on Oct. 11-13.
Coach Jongh is looking forward to the prospect of facing conference foe, Georgia State. Georgia State beat ULM 4-3 in last year's Sun Belt Tournament.
"We can work towards maybe seeing them in the conference tournament. Who knows, maybe in the semis, maybe in the finals," Jongh said.
The tennis season is divided into a fall and spring season. The fall is made up of individual tournaments while the team events are in the spring.
Jongh uses Rufyikiri's wins to help motivate the other girls.
"Getting Sophie on a winning streak, the girls kind of see as well. "Hey, I want to be a part of that. I want to be a part of the winning.""
After traveling to the Georgia State Southern Shootout, the Warhawks will participate in the ITA Regional held in Auburn, Alabama, and the USTA/ITA National Indoor Intercollegiate Championships held in Flushing Meadows, New York.