Traveling Scholars bring civil rights movements to light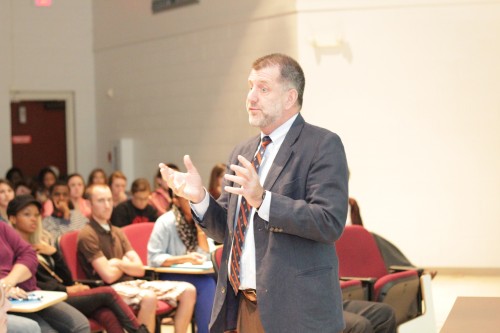 Gwendolyn Ducre
October 21, 2013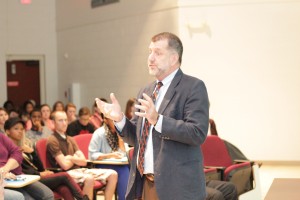 Traveling Scholars Rebbeca Watts, Sean O'Rourke and Lesli Pace held "Exploring the Visual and Rhetorical Power Of the Civil Rights Sit-Ins" to discuss 1960s sit-ins Thursday.
Before the analysis began, there was a brief historical lesson.
The professors also used their analysis of various sit-ins across the southern region to remind students of the significance the civil rights movement influenced the country.
O'Rourke, communication studies professor from Furman University, said there are three main goals he had for the students who attended the workshop.
"First, students today don't know a lot about their history, and when they hear it they can't get enough. Secondly, courage. It takes courage to make change," O'Rourke said.
O'Rourke's third is to be aware of what happened in your neighborhood. O'Rourke said it is student's responsibility to be educated and know the history of their hometown.
He believes that older generations share the same responsibility to remind each other of the trials that activists went through to make progress, and later pass along the same information future generations.
Watts, associate communication and media studies professor at Stetson University, presented her analysis on Wade in the Water: Swim-Ins at St. Augustine Beach, Florida, in the Long Hot Summer of 1964.
Watts previewed actual footage from sit-ins on the beaches of Florida.
Kanada DeBurr, a senior mass communication major, said she enjoyed the forum and did not know a lot of the information that was presented at the workshop.
" I didn't know about the sit-ins in Baton Rouge and New Orleans. There was a lot I learned. I'm glad that Caucasians care as much as we do," DeBurr said.
Pace, associate communication professor, has hosted The Traveling Scholars workshop since 2009.
Scholars from all over come together to share their analysis on various topics.
The traveling scholars, along with an estimate amount of 30 other professors and Pace are collaborating to publish "Like a Fire: Reading the Rhetoric of the Civil Rights Sit-In."
While the title has not yet been finalized, the book will cover 20 sit-ins from all over the country.
The book has been under construction for two years and the contributors hope to have it published by fall 2014.