LocoRico spices up SUB with burrito bar concept
Gwendolyn Ducre
January 14, 2014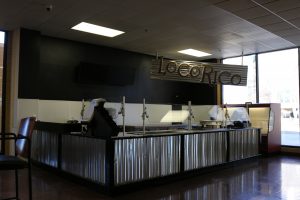 If you enjoy indulging into authentic burritos, cheesy nachos or even tortilla bowls LocoRico will be well worth your flex dollars.
LocoRico is located in the Sub and is now officially opened for business.
I had the pleasure of tasting a burrito before the opening and I'm convinced my late night visits to Taco Bell will soon be coming to an end. The burrito, or any purchased meal, is made to order with toppings of your choice.
There were so many items to choose from. I was eager to just create one big concocted burrito. I decided to try beef instead of chicken or pork because beef tastes good on everything, right?
After choosing my meat, I had the choice to add pinto beans or black beans. Rice was also added on to my buritto I began to order. I was not actually asked if I wanted rice or not. So if you do not want it, be sure to hold the rice before ordering. Though, the rice did make the burrito better.
Sauces are the key ingredient to any tasty burrito. LocoRico offers a number of four sauces to choose from.  The chipotle sauce gave the burrito a spicy after taste. Next time I'll try their handmade salsa, it sounds promising.
Now, let's talk about the size of this muy grande burrito. The burrito was bigger than a burger and wider than a slice of pizza.
I had to use both hands to devour their huge burritos. If you have a large appetite you will leave with a food baby-be prepared.
LocoRico is also a great place for vegetarians. There are several combinations that can be made without adding meat. Or, for those New Year's resolutions that require healthier meals, a tortilla salad bowl is a good choice.
LocoRico is not only an excuse to avoid driving to Taco Bell, it's also a great way to avoid applying there. If you're looking for a job on campus, LocoRico is now hiring.